Press
Danai Gurira Talks Michonne With EW; USA Today on Greg Nicotero Webisodes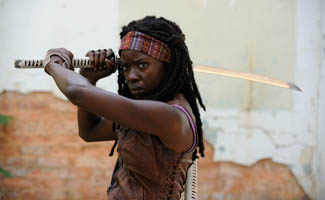 Danai Gurira talks about Michonne and her katana with Entertainment Weekly, while USA Today reports on the new Greg Nicotero-directed Webisodes for The Walking Dead. Plus Guillermo del Toro credits The Walking Dead as an influence on his newest project. Read on for more news.
• Entertainment Weekly chats with Danai Gurira, who explains that Michonne's katana represents a "rebirth into a new world."
• USA Today reports that Greg Nicotero will direct four The Walking Dead-themed Webisodes to be called Cold Storage. Actress Cerina Vincent speaks with Dread Central about appearing in the new Webisodes.
• Speaking with Deadline, Guillermo del Toro cites The Walking Dead as an influence on developing The Strain, a drama that's gotten a pilot order at FX.
• TV Guide's fall cable preview touches on Michonne, the governor, and what The Walking Dead survivors will be up to — and concludes, "Seems like Dead's got a lot of life left in it." (No link.)
• Talking about the new fall TV season, the New York Times suggests that cable shows like The Walking Dead will give broadcast shows increased competition for advertising rates.
• Comic Book Men's Kevin Smith shares with NPR his movie and TV recommendations, including The Walking Dead ("The beauty of The Walking Dead is that they take their time telling the story") and Talking Dead.
• The Orlando Sentinel attends the first Halloween Horror Night at Universal Studios, reporting that one attendee deemed The Walking Dead experience the "scariest house he'd seen in years." Universal Orlando's Jim Timon tells Monsters & Critics that Greg Nicotero was the "greatest guy to work with, and his enthusiasm for this project was just so intense."
• Mashable showcases a new Season 3 trailer that "highlights critics' positive impressions of the series — all while the characters encounter zombies and kill two of them."
• Cinema Blend, ComicBookMovie.com, and Indiewire highlight AMC's behind-the-scenes video of Danai Gurira training to play Michonne.
• AMC and the American Red Cross have teamed up for the "American Red Cross Zombie Blood Drive," with Greg Nicotero turning several celebrities into zombies. Entertainment Weekly covers the news.
• Cinema Blend, ComicBook.com, and TheHDRoom showcase ten photos from the Season 3 premiere.
• The Atlanta Business Chronicle reports that movies and TV shows filmed in Georgia, including The Walking Dead, generated a $3.1 billion impact in fiscal 2012.
• The folks at Celebrity Cafe are eagerly awaiting Season 3 and, in the meantime, have been, in their words, "immersing ourselves in the brilliant storytelling and zombie-filled escapes."
• Dread Central highlights a Season 3 teaser in Italian that features Michonne, as well as another one in Italian that features Rick and Daryl.
• Digital Spy reports that Season 3 of The Walking Dead will premiere in the U.K. on FX on Oct. 19, at 10 p.m.
• The first issue of Thunder!, a new electronic magazine, will include an episode guide for The Walking Dead, according to ComicBook.com.
• The Daily Blam! showcases a $75 mini-bust of Rick that "comes pistol drawn, ready to take down criminals and walkers alike."
Read More