Press
Norman Reedus Talks Daryl With EW; New York Post Anticipates Season 3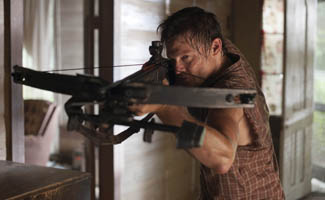 This week, Norman Reedus talks with Entertainment Weekly, and the New York Post eagerly awaits Season 3. Plus Greg Nicotero previews The Walking Dead maze at Universal's Halloween Horror Nights. Read on for more.
• Norman Reedus tells Entertainment Weekly about the freedom of playing a character who's not in the comic book: "I can sleep with everyone. I can kill everyone. I don't know when I'll die."
• The New York Post — which "cannot wait to see the undead nosh on the remaining survivors' brains" in Season 3 — includes The Walking Dead in its roundup of this fall's "great" sci-fi shows. Also the St. Louis Post-Dispatch highlights the autumn return of "some of cable's biggest originals," including The Walking Dead.
• The Los Angeles Times speaks with Greg Nicotero about The Walking Dead maze at Universal's Halloween Horror Nights event: "This is not a carnival attraction, this is not a haunted house that somebody's having in a high school parking lot."
• Variety's new faces for fall include Danai Gurira, who says, "The beauty of Michonne is that she's not a people-pleaser. She's a very cool character to embody in that regard."
• Steven Yeun tells Today that Glenn learns in Season 3 that he "can really trust his own decisions. That doesn't come without consequences." (There are a couple of new photos too.)
• Deadline reports on a Writers Guild of America panel moderated by Glen Mazzara and notes that The Walking Dead was "dramatically overlooked" this year when the Emmy nominations were announced.
• Entertainment Weekly details Robert Kirkman's plans for New York Comic-Con next month, including several panels and signing events. According to Dread Central, The Walking Dead panel will also include Andrew Lincoln, Glen Mazzara, Gale Anne Hurd, Norman Reedus, Chandler Riggs, Danai Gurira, David Morrissey, and Michael Rooker.
• Entertainment Weekly highlights IronE Singleton's comments about T-Dog's part in AMC's Season 3 cast interview. He promises, "This season you will get more T-Dog."
• ComicBookMovie.com speaks with Michael Rooker about Merle, a "challenging role that I am honored to play."
• CNN cites AMC's Story Sync — available for The Walking Dead and Breaking Bad this year — when discussing TV viewing with a second screen. And a Los Angeles Times article on second screens that complement the TV-viewing experience mentions AMC's mobile app, which "delivers behind the scenes features, interviews and updates" for shows.
• Ad Age discusses The Walking Dead's success with social TV, including Hyundai's sponsorship of The Walking Dead Elantra GT sweepstakes and the introduction of the Hyundai ZSM (Zombie Survival Machine) at this year's Comic-Con.
• CarterMatt.com reports on The Walking Dead's win at the Creative Arts Emmys in the category of outstanding prosthetic makeup.
• The Hollywood Reporter gets some Season 3 scoops from Norman Reedus and Lauren Cohan — and provides a couple of new photos. Meanwhile, Danai Gurira, Laurie Holden, and David Morrissey talk Season 3 with Entertainment Weekly, accompanied by some images of the trio of characters.
• Check out new Season 3 photos at TV Guide (where Andrea is "getting awfully close" to the Governor), the Los Angeles Times, Yahoo! TV, TVLine (which feature the prison and a grown-up Carl), Hollywood.com, TheInsider.com, PerezHilton.com, The Huffington Post (with a full set of cast portraits), Buzzfeed, and Celebuzz.
• Check out a new Season 3 trailer at Bloody Disgusting. TV Guide also has the trailer, noting, "One thing's for sure about Walking Dead's upcoming third season: There will be blood."
• According to Comics Alliance, a new series of Walking Dead action figures — including the Well Zombie, Bicycle Girl, Rick, and Shane — will be released next month.
Read More