Press
Andrew Lincoln on Cover of Men's Health; Greg Nicotero Teases Season 3 to MTV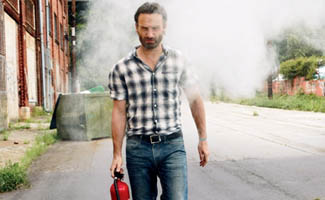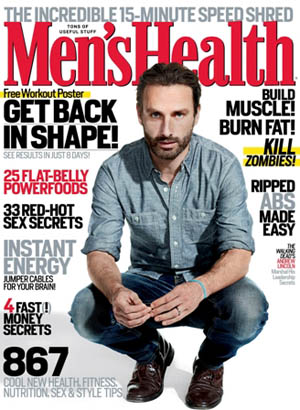 This week, Andrew Lincoln shows up on the cover of Men's Health, while Greg Nicotero previews Season 3 for MTV. Plus Robert Kirkman talks about Michonne with Rolling Stone, and Entertaiment Weekly nominates Lincoln for an EWwy Award. Read on for more.
• Andrew Lincoln is on the cover of Men's Health and shares his exercise regimen: "I've got a zombie apocalypse to keep me fit." (No link.) Access Hollywood and Uinterview have more excerpts from the interview.
• Greg Nicotero tells MTV that "some familiar, iconic moments" from Robert Kirkman's graphic novel will appear in Season 3.
• Rolling Stone's preview of The Walking Dead Season 3 premiere quotes Robert Kirkman on Michonne: "She's a survivor. She's the first character who has figured out this world." (No link.)
• Andrew Lincoln is nominated for an Entertainment Weekly EWwy Award (for series and actors snubbed by the Emmys) in the Best Actor category — for making Rick's "descent into Lord of the Flies-esque authoritarianism oddly appealing."
• Seth Green talks to TV Guide about Robert Kirkman playing himself in an upcoming episode of Cartoon Network's Robot Chicken.
• New York cites The Walking Dead as an example of why TV — with its "terrific writing, acting, and originality" — is now better than the movies.
• The Houston Chronicle is looking forward to several TV shows this fall, including The Walking Dead. The Atlanta Journal-Constitution highlights four fall TV shows made in the Atlanta area, including The Walking Dead, which is "by far the most popular show shot locally."
• The Daily Beast and the Los Angeles Daily News clue viewers in to where The Walking Dead left off when Season 2 ended.
• Gino Crognale, nominated for an Outstanding Prosthetic Makeup Emmy for the Season 2 premiere, "What Lies Ahead," is interviewed by his hometown paper, the Montgomery County Times Herald.
• The Atlanta Journal-Constitution interviews TV-show extras and notes, "Among local shoots, the coolest gig for many extras is to be a zombie" on The Walking Dead.
• ComicBook.com shows off a Season 3 teaser that starts with the governor saying "Welcome to Woodbury," a remark "that's sure to chill fans of the comics." Comic Book Movie spotlights a Season 3 commercial that features Rick, predicting, "We're sure to see a different side of the lawman — one that may remind us more of his old buddy Shane." Dread Central helps to "build the anticipation even more" for Season 3 by featuring more on-air promos, including a teaser titled "Infected."
• Shock Till You Drop takes a tour of the prison with Robert Kirkman in an AMC behind-the-scenes video.
• MTV, Entertainment Weekly, and the Los Angeles Times preview The Walking Dead Halloween Horror Nights mazes at the Universal Orlando and Hollywood theme parks. Greg Nicotero describes the mazes as "amazing."
• Emma Bell (Amy) has been cast as a series regular on Season 2 of TNT's Dallas, TVLine reports.
Read More