Press
Toronto Star Previews Season 3; Daily News on Andrew Lincoln As Cult Hero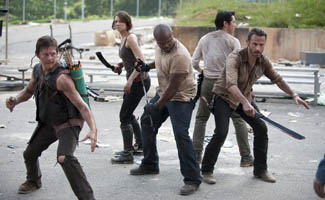 This week, the Toronto Star includes The Walking Dead's Season 3 in its fall TV preview, while the Daily News ponders the cult status of Andrew Lincoln. Plus Mashable takes note of the drama's 10 million Facebook friends. Read on for more.
• The Toronto Star features The Walking Dead in its fall TV preview, asking, "What is up with the walkers? Who's the chick with the sword? And what is that imposing building complex?"
• The Daily News spotlights Andrew Lincoln, noting that his role as Rick "has made him a cult hero to millions of zombie fans around the world." (No link.)
• Mashable spotlights the AMC poster — a spoof of The Social Network — celebrating The Walking Dead's Facebook page notching more than 10 million fans.
• The Walking Dead has a new Season 3 poster, and The Wall Street Journal says it "shows Rick ready for battle."
• The Hollywood Reporter recommends watching a Season 3 preview — called "Resurrection" — "to see what awaits Rick (Andrew Lincoln), Hershel and the group at the prison."
• TVLine highlights a "chilling" new TV spot — entitled "Darkness" — for The Walking Dead's Season 3.
• Zap2it features the two videos introduced by The Hollywood Reporter and TVLine, and has another teaser called "Shivers."
• Collider.com highlights six new Season 3 photos at the AMC website, observing that "these images promise plenty of human-on-zombie violence when the show returns."
• Outside examines the Walking Dead-inspired Run For Your Lives race series and wonders what it says about America's obsession with zombies.
• Studio City Patch previews The Walking Dead's Halloween Horror Nights maze at Universal Studios.
• TVWise reports that the U.K.'s Channel 5 will air Season 3 in the late spring or early summer next year, after the season airs first on FX.
• According to the Reel Bits, The Walking Dead's Season 3 is set to air in Australia on Oct. 16.
Read More