Press
The Walking Dead Graces EW Cover; TV Guide Features Deleted Scene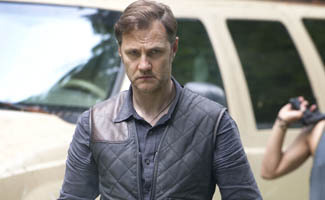 This week, The Walking Dead appears on Entertainment Weekly's cover, and TV Guide surfaces a deleted scene from the show. Plus, Robert Kirkman and Glen Mazzara discuss a piece of casting news. Read on for more:
• This week's Entertainment Weekly features four covers featuring characters from The Walking Dead. Inside is a Season 3 preview, including Rick and the Governor's "eventual confrontation that could destroy everything," according to Robert Kirkman.
• TV Guide features a scene (and storyline) deleted from the Season 2 premiere. You can also find it on the Season 2 DVD, due out Tue., Aug. 28.
• Robert Kirkman and Glen Mazzara talk to Entertainment Weekly about casting Dallas Roberts as Milton, one of the residents of Woodbury.
• Variety says of Greg Nicotero's directing: "He knows how to craft it, how to shoot it and what needs to happen to make viewers' stomachs jump in their throats." (No Link.)
• According to SFX, Greg Nicotero thinks David Morrissey is "amazing" as The Governor.
• Entertainment Weekly has a time-lapse video depicting "what it takes to turn a perfectly nice woman into a member of the undead."
• The Huffington Post selects Danai Gurira as a new star to watch for the fall TV season.
• The Lincoln (Neb.) Journal Star speaks with Danny Riker, who has played various zombies on The Walking Dead. His advice for first-time walkers: "There's always the classic, drag your one foot. Somehow it always seems to be the right foot — never the left foot."
• Adweek discusses the proliferation of apocalypse-oriented TV shows such as The Walking Dead.
• What does pop culture teach us about surviving a zombie apocalypse? The St. Louis Post-Dispatch has a few tips gleaned from The Walking Dead.
• TheHDRoom has collected high-resolution versions of every Season 3 photo from The Walking Dead that's been released.
Read More