Press
EW Speaks With Michonne and the Governor; Jon Bernthal, Norman Reedus Joke Around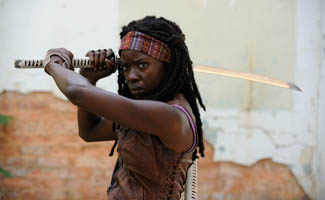 This week, Entertainment Weekly expands on its coverage of The Walking Dead, speaking to Danai Gurira, David Morrissey, Norman Reedus, Michael Rooker, and Andrew Lincoln. Plus Reedus and Jon Bernthal crack jokes on a Fan Expo Canada panel. Read on for more.
• Entertainment Weekly speaks with Danai Gurira, who describes Michonne: "She's the quintessential survivor."
• Entertainment Weekly talks to David Morrissey, who shares his thoughts on the difference between the TV and comic-book versions of the Governor: "I think he has more complexity."
• Comic Book Resources and The Huffington Post report on Jon Bernthal and Norman Reedus talking about The Walking Dead at last week's Fan Expo Canada. For the record, Bernthal doesn't like zombies: "They don't scare me, they just make me mad." Just Jared has a video of the panel.
• Norman Reedus and Michael Rooker sit down with Entertainment Weekly to discuss the Dixon brothers' reunion.
• Andrew Lincoln discusses Rick and Lori's relationship with Entertainment Weekly: "I'm not saying that it's irrevocable, their relationship, but it's pretty close to that."
• Jeffrey DeMunn talks to Fangoria about Dale's death and acting with Laurie Holden and Jon Bernthal.
• E! Online's Fall TV spoilers include one for The Walking Dead: "The stakes are higher this season, which means important people are going to die."
• E! Online, which includes The Walking Dead's Oct. 14 Season 3 premiere in a list of Fall TV's important dates, raves, "A badass Michonne, the prison, the Governor…we cannot even begin to touch on all the things we're excited for!"
• The Walking Dead is one of Poptimal's most-anticipated returning Fall shows.
• Entertainment Weekly features some more photos of the cast from last week's The Walking Dead cover story.
• The Walking Dead scored two CableFAX Program Award nominations: Best Showrunner for Glen Mazzara and Best Cable Program. (No link.)
• Entertainment Focus reports that Greg Nicotero received the inaugural Variety Award at London's FrightFest last week.
• Fangoria speaks with Madison Lintz — who's in two new movies — about Sophia becoming a zombie.
• The New York Times, The Wall Street Journal, and USA Today highlight the release of The Walking Dead's Season 2 DVD. SFX's Season 2 review says, "The Walking Dead remains in a class all of its own." The Plain Dealer includes the DVD/Blu-ray set in the week's Pop 10. The U.K.'s HeyUGuys' review asserts, "It's not often we get a horror/action programme of such high calibre." Shockya asserts, "If you haven't watched this show yet, you are really missing out on something special."
• TheHDRoom notes that The Walking Dead's Season 2 Blu-ray has been a "fixture" in the top three of Amazon's Blu-ray best-sellers chart on the strength of preorders.
Read More