Press
The Walking Dead Named Top Zombie TV Show; Robert Kirkman Set to Visit NY Comic Con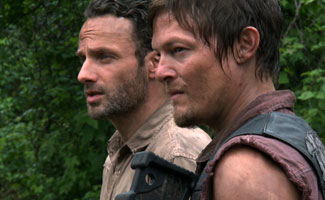 This week, The Walking Dead is named the top zombie film or TV show by the San Jose Mercury News, while Entertainment Weekly has news that Robert Kirkman is set to visit New York Comic Con this fall. Plus, Glen Mazzara and Kirkman talk about Season 3. Read on for more:
• The Walking Dead is the San Jose Mercury News's top zombie film or TV show. Says the paper: It's "a great TV show that just happens to be about zombies." By the same token, The Walking Dead is one of Screen Junkies' six apocalypse TV shows that will "have you on the edge of your seat."
• Entertainment Weekly reports that Robert Kirkman will appear at this year's New York Comic Con, which will take place in October.
• CliqueClack catches up with Glen Mazzara and Robert Kirkman, who share, "I think both the fans of the show as well as the fans of the comics are going to be very pleased with what we have in store for them."
• Comic Book Movie showcases a cast poster for The Walking Dead.
• The Walking Dead's return is on Mania's "must watch/play list" for this fall.
• Digital Spy's list of five shows to watch this week on U.K. TV includes The Walking Dead's Season 2 finale: "We're pretty confident you won't be let down as Andrew Lincoln's post-apocalyptic drama lurches off our screens."
• The A.V. Club observes that the fictional Morley Cigarettes, which have apparently turned up on The Walking Dead, have also appeared on shows going back 50 years, all the way to The Dick Van Dyke Show in 1961.
• At CraveOnline.com, Robert Kirkman compares The Walking Dead comic book and TV show in an excerpt from the Season 2 DVD and Blu-ray (out Aug. 28).
• Dale may be gone, but Entertainment Weekly reports that Jeffrey DeMunn will guest-star on an episode of NBC's Chicago Fire.
• Breitbart reports that Scott Wilson (Hershel) will be featured in the film Before the Mask: The Return of Leslie Vernon.
• According to Entertainment Weekly, Michael Raymond-James (who played Dave in Season 2 Episode 8, "Nebraska") will join the cast of ABC's Once Upon a Time.
Read More