Press
Variety Lauds Glen Mazzara; Robert Kirkman Discusses Michonne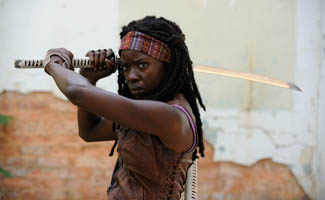 This week, Variety lauds Glen Mazzara for his work on The Walking Dead Season 2 while Robert Kirkman describes Michonne as "intense" to Shock Till You Drop. Read on for more:
• Variety credits Glen Mazzara with leading The Walking Dead Season 2 to "a smashing conclusion, breaking a basic cable drama record with 9 million viewers for the season finale." (No Link.)
• Robert Kirkman talks to Shock Till You Drop about Michonne making the leap from the comic to the TV show, saying, "seeing her move and seeing her kill the zombies in motion is so much more intense that you can believe." Collider.com discusses The Walking Dead's Season 3 budget with Kirkman, who says, "I think you might see a few more dollars on the screen in the third season. It's gonna be bigger." Kirkman tells Poptimal about Season 3: "Doing both the prison and Woodbury at the same time was absolutely crazy, but it's going to pay off in spades."
• Glen Mazzara tells IFC that Season 3 is "a thrill ride." He reassures fans, "Where we ended up last year, that kind of frenetic adrenalized pace, that's where we're picking up." Dread Central has a video interview with Mazzara, who says, "I've been very, very happy and surprised with how much of a character the Prison has become, but it's really an evil character." Collider.com talks to Mazzara about the comic book existing in "an alternate universe" to the TV show.
• Spike TV interviews Norman Reedus, who asserts, "The fan base for Daryl is quite large. I think they're basically keeping me alive on this show, so thank you very much."
• Steven Yeun and Lauren Cohan speak with MTV about Season 3, with Yeun observing, "What's great about season three is you start seeing a symbiotic relationship not just amongst Maggie and Glenn, but amongst the group."
• The Chicago Tribune cites The Walking Dead as an example of apocalyptic TV and quotes Gale Anne Hurd. (No Link.)
• Digital Spy shares with U.K. fans that Season 3 of The Walking Dead will premiere there in mid-October.
• Entertainment Focus reports that The Walking Dead's Season 2 DVD and Blu-Ray will be available on Aug. 27.
Read More