Press
EW Features Deleted Scenes; Variety Talks Emmys With Greg Nicotero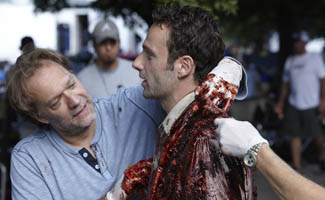 This week, Entertainment Weekly and TVLine both highlight deleted scenes that will be found on the Season 2 DVD (out Tue., Aug. 28), while Variety talks about the Creative Arts Emmys with Greg Nicotero.
• Entertainment Weekly features a scene that was deleted from the Season 2 premiere, along with an entire story line. There's more on that story line in the Season 2 DVD set (available Aug. 28).
• TVLine features never-before-seen footage from the Season 2 finale, along with commentary from Robert Kirkman, Gale Anne Hurd, Glen Mazzara, and director Ernest Dickerson.
• In a Variety article about the Creative Arts Emmys, Greg Nicotero says, "We approach every episode of The Walking Dead like it's a mini-movie, in eight days of shooting."
• Variety reports that Greg Nicotero will be honored later this month at London's FrightFest horror and fantasy festival with the first-ever Variety award.
• According to Indiewire, Gale Anne Hurd will participate in a panel called "It's Easy Being Green: Simple Steps to Greening Your Production" at next month's Toronto International Film Festival.
• Blu-rayDefinition.com's Walking Dead Season 2 Blu-ray review says it "exceeds the first in every way with its shocking…twists."
• Shock Till You Drop spotlights two new Season 3 zombie photos, observing, "Man oh man, is KNB EFX killing it with the zombie makeup."
• The Marin Independent Journal cites The Walking Dead as one reason "why we love zombies."
• The Hollywood Reporter and IGN highlight The Walking Dead Social Game, a story-based game played via Facebook.
• TVLine says that Lennie James (who played Morgan in the series premiere) has joined AMC's drama pilot Low Winter Sun.
• According to AfterElton, Steven Yeun appeared in the Season 2 premiere of Adult Swim's NTSF:SD:SUV.
Read More