Press
David Morrissey Talks The Governor With Vanity Fair; Universal Plans Dead Attraction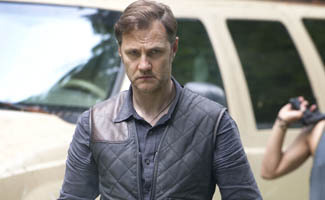 This week, it's announced that The Walking Dead will be celebrated during Halloween Horror Nights at the Universal Studios theme parks, and Vanity Fair catches up with David Morrissey at Comic-Con to talk about playing The Governor. Read on for more:
• According to The Hollywood Reporter and Entertainment Weekly, The Walking Dead will get the theme park treatment during the annual Halloween Horror Nights celebration at Universal Orlando Resort and Universal Studios Hollywood. The Huffington Post has more coverage.
• Vanity Fair chats with David Morrissey, who says about The Governor: "He's a bit more complex than in the comic book. He's a bad guy and he does terrible things, but I think he's part of this world." MTV also talks to Morrissey about his turn as one of The Walking Dead's most iconic characters.
• Entertainment Weekly has highlights of The Walking Dead's Comic-Con panel and concludes that the Season 3 Trailer "looked fantastic and seemed to follow through on the producers' promise that the show will continue its current wave of momentum." Collider.com, calls the trailer "intense, action-packed, claustrophobic, chilling, and thrilling." New York has 11 observations about the panel and trailer, while The Hollywood Reporter offers 11 teasers from the cast and creators, as well as more from the panel. Zap2it says the trailer "did not disappoint. Not even one bit." The Associated Press, E! Online, HitFix, the Los Angeles Times, TV.com, TV Guide, TVLine, USA Today and Variety also checked out the panel.
• Entertainment Weekly reports on a Comic-Con panel featuring actors who play strong female characters, including Sarah Wayne Callies — who says she hates that women are "taught that we're competition for one another." TheWrap is at the panel too.
• Gale Anne Hurd chats with Assignment X about Season 3 and mentions "The Grateful Dead" gallery in The Walking Dead's production office, featuring photos of characters who have met their demise.
• Robert Kirkman discusses the timing of Michonne's appearance in The Walking Dead TV show with ComicBook.com: "I think when you see what we're going to do with her, you'll agree that she was brought into the story at just the right time." Kirkman tells TVLine that The Walking Dead "really is, at its core, Rick's story." Kirkman also visits with G4's Attack of the Show.
• Glen Mazzara tells the The Wall Street Journal about Season 3: "I guarantee people are going to say it's too fast, slow it down, it's too intense." The Hollywood Reporter shares Mazzara's diary of his experience at Comic-Con.
• Access Hollywood catches up with Andrew Lincoln, who says that The Walking Dead's success "really does feel like this extraordinary dream sometimes, because I just love playing this guy…" USA Today cites Rick's sheriff's hat ("TV's most embellished big hat") as an example of the emerging popularity of the broad-brimmed hat.
• Danai Gurira tells MTV that playing Michonne is thrilling "because I really haven't seen any story told this viscerally and palpably as The Walking Dead." To New York, Gurira says, "I think Michonne is very sharp, her instincts are second to absolutely none." The Hollywood Reporter has Gurira saying, "Michonne is her own entity and I'm just lucky enough to step into her bad-ass shoes."
• TVLine talks Season 3 with Sarah Wayne Callies and Steven Yeun.
• The Hollywood Reporter eulogizes Dale as a TV character who died too soon.
Read More