Press
Glen Mazzara Talks Comic-Con; THR Speaks to Robert Kirkman About Nerdiness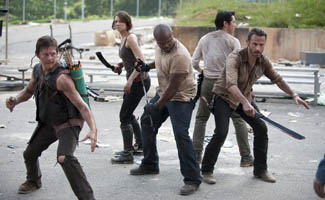 This week, Glen Mazzara talks about Comic-Con with Entertainment Weekly and The Wrap, while The Hollywood Reporter speaks with Robert Kirkman about occupying one of L.A's nerdiest offices. Plus there's lots more Comic-Con buzz.
• In Entertainment Weekly's Comic-Con preview, Glen Mazzara says, "What's unknown is the darkness of humanity and the evil that other people can do. The Governor is the new threat in our world." (No link.) Mazzara also talks to The Wrap about comics and Comic-Con.
• The Hollywood Reporter includes Robert Kirkman in its roundup of L.A.'s nerdiest offices. Of his many projects, he says, "I just bounce around like a schizophrenic fool who doesn't know what he's doing on any given day." (No link.)
• Norman Reedus characterizes Daryl to San Diego City Beat as a "loose wire and a hothead, but he's also got this heart of gold at the same time."
• E! Online makes note of The Walking Dead while noting that the zombie apocalypse is one of the 100 Best Things in Pop Culture.
• Entertainment Weekly highlights The Walking Dead's Season 3 poster, which depicts Rick, Michonne, and the Governor. Glen Mazzara tells EW that David Morrissey, "is an incredibly talented actor with a lot of magnetism."
• Glen Mazzara speaks to The Huffington Post about how the "larger question being posed in Season 3 is about humanity — how do you retain your humanity?"
• The Hollywood Reporter highlights The Walking Dead's Season 3 teasers and a Michonne-related sneak peek, which aired after last weekend's marathon, during Talking Dead. After watching the preview, Time says, "It's going to be a hell of a lot of fun watching Michonne this season." E! Online and USA Today have more on the teasers.
• In other Comic-Con news, USA Today says The Walking Dead's panel (along with a Season 3 sneak peek) is one of the most buzzed about. ComicBook.com is excited about fans being able to pose as one of Michonne's pets at The Walking Dead booth. Comic Book Resources showcases The Walking Dead's Limited Edition Comic-Con poster, featuring a walker standing outside the prison. The Hollywood Reporter calls the poster "creepy." TVLine takes a look at The Walking Dead's collector cards that will be given to "those deemed to be donning their undeadly best as they visit the Walking Dead booth."
• The Walking Dead was No. 2 on Ad Age's tally of the top TV shows on entertainment check-in service Get Glue.
• Greg Nicotero gives viewers a tour of the zombie studio — and The Huffington Post says, "With all those open wounds, missing body parts, and grabby hands, this studio is not somewhere we'd want to be when the lights go out."
Read More