Press
The Walking Dead Expands Presence at Comic-Con 2012 With Licensed Merchandise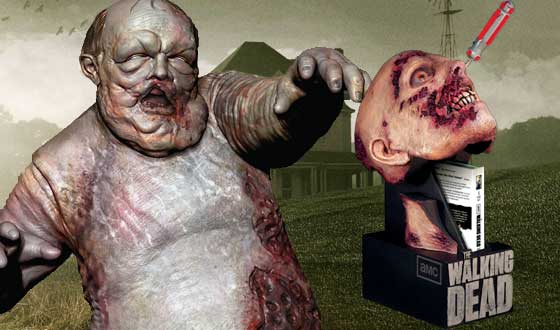 The Walking Dead is making a strong presence at Comic-Con 2012. Not only is there a panel and a booth (#3721) at this year's convention in San Diego, the series will also have licensed products and merchandise you can preview. The merchandise includes books, video games, action figures, costumes and DVD's, all of which will hit retail over the coming months.
Here's a list of the merchandise that can be viewed at Comic-Con this year (Click here for a map of the convention floor):
Abrams Booth: #1216/1218
A re-release of The Walking Dead Chronicles Book. The only authorized behind-the-scenes guide to season one with over 200 photos including never-before-seen unit photography, storyboards, set designs, make-up and visual effects shots, and page-to-screen comparisons of the comic and TV show.
Release date: Fall
Activision Booth: #5344
The Walking Dead video game features the untold story of series favorite Daryl Dixon and his brother Merle as they make their way to the supposed safety of Atlanta. Booth attendees will have the chance to place themselves into the horrors of The Walking Dead with a game-related photo op, learn more about the game, preorder the title and have a chance to get an extremely limited edition version of Daryl's 'walker ears' necklace from the show.
Release date: 2013
Anchor Bay Entertainment Booth: #4045
A special designed Zombie Head Blu-ray disc case (pictured above) and a Jakks' Plug-n-Play game where attendees may demo the trailer.
Release date: August 28, 2012
Stylin Online/Changes Booth: #215, 5029, 5545
The Walking Dead Limited Edition Exclusive T-shirts
Release date: Summer
Rubies Booth: #3649
The Walking Dead Halloween Costumes including "Little Zombie Girl", "Decomposed Zombie", Halloween Masks including "Little Zombie Girl", Facial Latex Prosthetics and a Deluxe Make-up Kit.
Release date: Fall
Gentle Giant Booth: #3513
The Walking Dead collectible characters including the famous "Well Zombie" from Season 2 (pictured above).
Release date: Fall
Click here for a Comic-Con 2012 Map & Schedule
Click here to visit The Walking Dead Shop.
The Walking Dead returns this October. Check back at AMCtv.com all week for The Walking Dead updates from San Diego Comic-Con 2012.
Read More