Press
Glen Mazzara Joins LA Times Roundtable; Jon Bernthal Talks Shane's Demise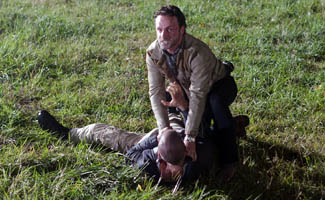 This week, Glen Mazzara joins a Los Angeles Times roundtable for show runners while Jon Bernthal talks about Shane's demise with The Hollywood Reporter. Plus, TV Guide sheds some light on Carl's Season 3 arc. Read on for more:
• Glen Mazzara explains to a Los Angeles Times roundtable, "I think what people like about our show is for some odd reason everybody can buy a zombie apocalypse. Like people just get that, you know?"
• TV Guide talks to Glen Mazzara, who says of Carl's Season 3 arc, "We're interested in exploring Carl as a child soldier in this war against the walkers."
• Jon Bernthal talks The Walking Dead Season 2 with The Hollywood Reporter and says of Shane's demise, "The only thing I care about…is that this death really resonates and that it affects Rick and sets other things in motion." Bernthal also speaks with The New York Times about starring in the play Small Engine Repair, which will start its run in New York next May.
• The Hollywood Reporter has news that Jon Bernthal has been cast in Martin Scorsese's The Wolf of Wall Street.
• Gale Anne Hurd writes in The Hollywood Reporter that awards shows should expand the number of nominees for each significant award since "zombies, vampires, werewolves and superheroes need Emmy and Oscar love, too."
• Dread Central includes The Walking Dead in its list of the seven deadliest zombie hordes, stating the AMC drama has "absolutely amazing" zombies.
• MSNBC honors the best dads on TV, including Rick Grimes because "who's a better dad than a gun-toting sheriff's deputy who kills zombies to keep his wife and son safe?"
• ComicBook.com highlights five characters to watch in The Walking Dead Season 3: Michonne, T-Dog, The Governor, Lori and Merle.
• The Walking Dead's Rohn Schmidt is nominated for a Pan-American Association of Film & Television Journalists (PAAFTJ) Television Award in the Best Cinematography in a Drama Series category for Season 2, Episode 7, "Pretty Much Dead Already."
Read More