Press
David Morrissey Talks The Governor With Indiewire; Jon Bernthal on His Final Scene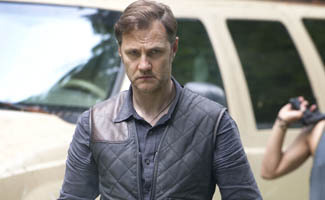 This week, David Morrissey talks to Indiewire about playing The Governor, Jon Bernthal tells the Los Angeles Times what it was like to film Shane's death and Variety names the Midseason Finale a Top TV Moment. Read on for more:
• Indiewire speaks with David Morrissey about trying to figure out the role of The Governor: "I've got this sort of Jackson Pollock-like idea at the moment, which is all over the place."
• Jon Bernthal tells the Los Angeles Times about shooting his final scene for The Walking Dead: "When the scene was over, everybody converged like zombies around me, and I made a little speech. It was a beautiful night and an emotional night."
• Variety includes The Walking Dead's Season 2 Midseason Finale in its list of the TV season's top moments.
• The Los Angeles Times includes Shane's and Dale's deaths in a list of notable TV demises. Says Glen Mazzara, "Having those two deaths back-to-back showed that we're a show that takes chances." (No Link.)
• The Hollywood Reporter spotlights AMC's first look at "fan favorite Merle Dixon — Daryl's long-lost brother!" CinemaBlend, Collider.com, The Huffington Post, IGN, ScreenCrush, Shockya.com, TV Fanatic, TV Guide and TVLine cover the news too.
• The Canadian Press reports on Glen Mazzara's appearance at the Banff World Media Festival, where he says three of his lifelong passions — comic books, TV and horror films — have come together for The Walking Dead. The Calgary Herald also reports on Mazzara's speech.
• Andrew Lincoln has been nominated for a 2012 Airlock Alpha Portal Award in the best actor/television category. You can vote on the awards once a day between June 25 and July 25.
• Want to get dad the perfect gift for Father's Day? Order The Walking Dead Zombie Apocalypse Gift Set today from Gold Label to get it delivered on time! Use promo code TEAMGRIMES for 20% off!
Read More