Press
Glen Mazzara in THR Roundtable; TV Line Predicts Emmy Noms for Callies and Bernthal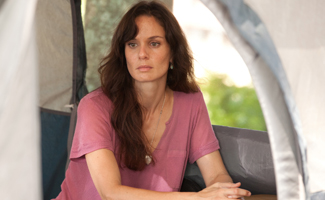 This week, Glen Mazzara participates in a showrunners roundtable with The Hollywood Reporter while TVLine thinks Jon Bernthal and Sarah Wayne Callies are contenders for Emmy nominations. Plus, TV Guide reveals a first look at The Governor. Read on for more:
• Glen Mazzara participates in The Hollywood Reporter's showrunners roundtable, during which he talks about writing fake audition scenes because "there are people out there who just want to spoil the show."
• TV Guide reveals a first-look photo of David Morrissey as The Governor in Season 3. "For those worried that AMC might be a diluted version of the villain," the article says, "fear not!"
• TVLine considers Sarah Wayne Callies a "major contender" for an Emmy nomination, saying that in Season 2 she was put "through a ringer that would have killed a lesser actress."
• TVLine also thinks Jon Bernthal is a contender in the Best Supporting Actor category: "His tenderness with Lori, coupled with his season-long simmering anger at Rick, made for quite an Emmy-worthy turn."
• The Hollywood Reporter includes Jon Bernthal in its photo shoot of potential supporting actor and actress nominees.
• The Los Angeles Times calls Shane a character "we hate to love." (No Link.)
• The Hollywood Reporter considers Sophia's, Dale's and Shane's deaths to be among TV's most shocking.
• Deadline speaks with Glen Mazzara, who shares that "going forward to Season 3, I think the pacing will continue to be quicker than it had been during the first half of Season 2."
• Chandler Riggs talks to the Niagara Falls Review about Carl's personality: "It was really weird for me because as the story progressed, Carl was a lot like me. I think that helps me out a lot with my character."
• Variety reports that Robert Kirkman will be honored with the Innovator Award at July's Saturn Awards.
• Atlanta's WABE visits Greg Nicotero's on-set zombie school and learns, "To be a believable, scary corpse endlessly looking for human flesh, it takes attitude."
• The Walking Dead's Season 3 preview weekend in July is spotlighted by BuzzFocus.com, Cinema Blend, Collider.com, Digital Spy, Dread Central, The Hollywood Reporter, IGN, Media Life, New York Magazine, the Orlando Sentinel, Screen Crush, Shock Till You Drop, TV Fanatic, TheWrap and Zap2it.
• Deadline reports that Norman Reedus has joined the cast of Pawn Shop Chronicles, a dark comedy centered around "a small Southern town's local pawn shop."
Read More