Uncategorized
Dispatches From the Set – Season 3 Premiere Director Ernest Dickerson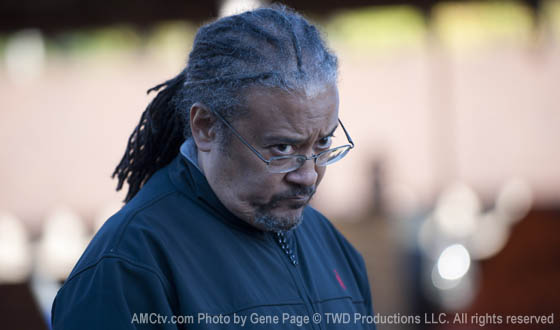 The Walking Dead's Season 3 Premiere director Ernest Dickerson chats with AMCtv.com about introducing Michonne in all her glory and keeping zombies warm with fire.
Q: What's been the most exciting thing to direct in the Season 3 Premiere?
A: I'm really excited for the fans to see a growth in the characters that they know…And in this episode, we're introducing Michonne in all of her glory. We get to meet her, and I know a lot of people have been looking forward to that.
Q: This is the sixth episode that you've directed. What's the Number 1 secret to creating an awesome episode of The Walking Dead?
A: It always starts with the script. It starts with the writers. I was fortunate in the first episode to have a really slam-bang script with a lot of action. Hopefully I make it cinematic. What I love about doing this show is each episode is like doing a mini-movie; it's different than any other television show I've ever done.
Q: You directed the memorable Season 2 Finale with the walker attack on the farm. What was that like to film?
A: I think a lot of people were looking at what we had to accomplish and thought it was impossible… It was really cold the last night, like 27 degrees. There's nothing more pitiful than a shivering zombie, so we had them on the bus until the last possible second…When the barn was burning, I know they loved being down there.
Q: You've gone from directing episodes on a stretch of highway and in the forest to now directing inside on a sound stage. Are you happy to be indoors?

A: It was slightly more pleasant because we could have air conditioning pumped in there, but it was a really dusty environment and real gritty. I had dust in my hair and I blew my nose and black soot came out. [Laughs] I thought it'd be easy, but no, not at all. There's no such thing as easy in the world of The Walking Dead.
Q: Glen Mazzara told us he wrote a particularly gross zombie gag for
Ep. 301. How does this compare to the Woodchuck Zombie gutting from Season 2?

A: That's hard for me to say because the entire time we were shooting the Woodchuck autopsy, what I called the zombie autopsy, I kept wondering if it was gross enough.
VIDEO: Inside The Walking Dead: Zombie Guts
Q: Season 3 seems to be more about human threats than zombies. Does the human drama feel like more familiar ground for you as a director?

A: It's human drama but after an apocalypse. It's human drama after society has completely disintegrated… Our people have figured their way through one menace but now there's the human menace, and now they're taking advantage of the fact that there's no law, there's no more government. Who can you trust? It's still dealing with pretty esoteric territory.
Q: You talked last time about how your goal as a director is to let your actors have fun. But how do you have fun?
A: During the day, there's really no relaxation for me. I don't exhale until it's over with and then most of the time at the end of the day, I'm prepping for next day's work…But we all love what we do.
Click here to read a fan interview with The Walking Dead's show runner Glen Mazzara.
Read More