Press
Robert Kirkman Promises an "Awesome" Season 3; Lauren Cohan Promoted to Series Regular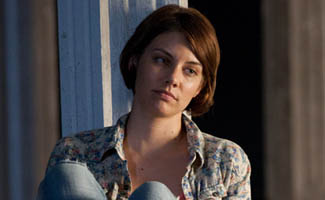 This week, Robert Kirkman talks to Assignment X about Season 3 and Lauren Cohan (Maggie) is promoted to a series regular. Plus, the show is up against USA's Burn Notice in Inside Pulse's March Madness tournament. Read on for more:
• Assignment X chats with Robert Kirkman, who says what little he can about Season 3, namely that it's "going to be awesome."
• TVLine reports that Lauren Cohan (Maggie) will be a series regular in Season 3. Glen Mazzara takes to Twitter with the news.
• The Walking Dead has made it to the Final Four of Inside Pulse's March Madness tournament. It squares off next against USA's Burn Notice.
• New York Magazine asks which AMC child has the worst parents. Of Carl Grimes, it says, "The minute there's not enough attention being paid to Carl, someone ends up dead."
• Jon Bernthal tells Starcasm, "I wanted Shane to force Rick to kill him. I wanted it to be that Shane was making Rick take a step that he had to take in order to keep Lori and Carl safe."
• Da Man's magazine interview with Steven Yeun has the actor talking about his cast mates from The Walking Dead and the Jeremy Lin phenomenon.
• Now that AMC has both a drama and unscripted series about advertising, New York Magazine looks at how The Walking Dead can be turned into Brains, a reality show that's a weekly seminar on weird survival skills.
• The Huffington Post features The Walking Dead and Mad Men in its Key of Awesome's "awesome zombie ad agency mashup."
• BuddyTV reports that Lauren Cohan will make a return to the CW's Vampire Diaries later this month.
• USA Today has a sneak peek of the cover for The Walking Dead Issue 100, which "features a pile of corpses, including every prominent character who's died in the series."
• AMC and Robert Kirkman have struck a deal to develop his Thief of Thieves comic book series for television. Collider.com says, "With all the success that AMC has found with The Walking Dead from creator Robert Kirkman, it's no surprise that the cable network is eager to work with him on another series."
• Shock Till You Drop reports that Greg Nicotero appears in Beast Wishes: The Fantastic World Of Bob & Kathy Burns, a documentary about "the goodwill ambassadors of sci-fi and horror film fandom."
Read More