Press
Danai Gurira Talks Michonne With THR; Jon Bernthal Tells Zap2It About Shane's Death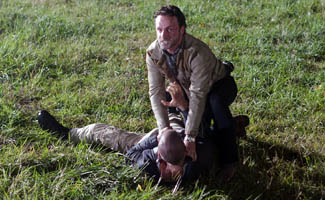 This week, Danai Gurira tells The Hollywood Reporter about her new role as Michonne in Season 3, and Jon Bernthal talks to Zap2It about Shane's death. Plus, TV Guide asks Robert Kirkman its burning questions from the Season 2 Finale.
• Danai Gurira talks to The Hollywood Reporter about taking on the iconic role of Michonne in The Walking Dead Season 3.
• Jon Bernthal walks Zap2it through Shane's death, concluding, "I think what ended up happening was kind of a perfect storm of all of our ideas coming together."
• TV Guide addresses Robert Kirkman with its burning questions stemming from the Season 2 Finale, including Andrea's state of mind after being abandoned during the zombie attack on the farm.
• The Walking Dead show runner Glen Mazzara tells MovieWeb that the prison "is a significant storyline" for Seasons 3 and 4.
• Glen Mazzara also sits down with FEARnet and talks about, among other things, why Dale was a worthy sacrifice in Season 2.
• GoldDerby talks to Norman Reedus about Merle's possible reappearance in Season 3.
• TVOvermind compiles a list of top ten scenes from The Walking Dead Season 2, such as Zombie Sophia coming out of the barn.
• Hollywood.com has a video of Norman Reedus' anti-bullying PSA.
• TVLine reports that NBC's Harry's Law is trying to get Jon Bernthal to guest-star in a May sweeps episode.
• In a video interview, Sarah Wayne Callies talks about her first day visiting an International Rescue Committee refugee camp in Thailand.
Read More