Press
Kirkman Dishes to Hollywood Reporter on Michonne; Season Finale Lands 9 Million Viewers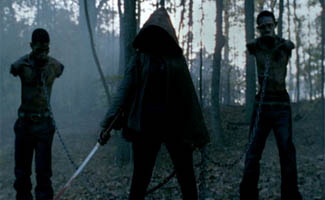 This week, the introduction of a mysterious new character has publications talking and The Walking Dead sets records with a whopping 9 million viewers for its Season 2 Finale. Read on for more.
• Deadline, Examiner, The Hollywood Reporter, and LA Times buzz over The Walking Dead's new character, Michonne. Show runner Glen Mazzara says of Michonne: "We know she kicks ass."
• On the process of casting Danai Gurira as Michonne, Robert Kirkman tells The Hollywood Reporter, "Michonne is infinitely more interesting if there's a lot of mystery surrounding her."
• The Hollywood Reporter has a sneak peek of Robert Kirkman's new comic release revealing the origins of Michonne's character.
• The Walking Dead sets ground-breaking records bringing in 9 million viewers as reported by numerous media outlets including Broadcasting & Cable, Deadline, Entertainment Weekly, The Hollywood Reporter, Indie Wire, Multichannel News, NY Daily News, TV Line, USA Today, Variety, and The Wrap.
• The Hollywood Reporter interviews Glen Mazzara and Robert Kirkman about what lies ahead, with Mazzara saying of Season 3: "Every episode is going to land a punch."
• Glen Mazzara dishes to Entertainment Weekly about The Walking Dead Season Finale's most talked about questions, including why Shane became a zombie so quickly.
• Hollywood.com spoke with Executive Producer Gale Anne Hurd who describes the finale as "epic."
• The Wrap makes predictions for The Walking Dead Season 3, including the Prison, the Governor and the return of Merle.
• Media Post says Talking Dead "effectively enhances The Walking Dead experience."
• Newsarama countdowns their top 10 moments from The Walking Dead Season 2, with Michonne's appearance taking the Number 1 spot: "We're loving the potential zombie slaughter that might result from an Andrea/Michonne team-up"
• Fanbolt includes photos of The Walking Dead's IronE Singleton appearing at a fan finale party in Atlanta.
• The Walking Dead: Dead Reckoning app is now the 4th free app overall on the Amazon Android store beating out Angry Birds and Netflix.
• According to Ad Age, The Walking Dead was No. 1 on GetGlue's entertainment check-in service this week, up from its No. 2 spot last week.
• For recaps, reviews and commentary for Season 2, Episode 13, "Beside The Dying Fire," check out The Baltimore Sun, Buddy TV, CBS News, Chicago Tribune, Collider,  Digital Spy, Entertainment Weekly, Examiner, Hollywood, The Huffington Post, LA Times, MTV, Rolling Stone, TV Line, and Zap2It.
Save
Read More