Press
Jon Bernthal Chats Up David Letterman; EW Talks Character Deaths With Robert Kirkman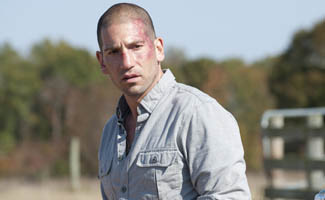 This week, Jon Bernthal discusses Shane's fall on the Late Show with David Letterman and Robert Kirkman speaks to several publications about the deaths of characters past and present.
• Jon Bernthal sits down with David Letterman and explains why he had to tell his grandmother about Shane's death in advance. Bernthal also tells Entertainment Weekly it was fitting that his last scene featured just him and Andrew Lincoln: "I can't imagine a better actor, a better partner, to do this with."
• Robert Kirkman dishes about Shane with Entertainment Weekly, The Hollywood Reporter, IGN, the NY Daily News and TVLine. Kirkman tells TVLine that Shane's "presence is going to be felt throughout the third season and beyond… He's almost more important to the show in death than he was in life."
• Glen Mazzara chats with MTV and TV Guide about Shane's exit: "It is conceivable that they could work this out," he says, "but Rick has already given Shane a chance. And I think he's just sick of Shane."
• Norman Reedus, Steven Yeun and Melissa McBride talk about Shane's death with MTV. Reedus characterizes it as "almost sort of Shakespearean in a way."
• Robert Kirkman reveals some tongue-in-cheek spoilers to G4's Attack of the Show, including the real father of Lori's baby.
• In its round-up of the week's top moments, TV Guide describes Dale's shocking death as "a pretty gutsy move."
• Entertainment Weekly and The Washington Post report on Sarah Wayne Callies helping CollegeHumor.com institute rules to avoid spoilers. EW notes, "Spoiler alert: It's pretty darn funny."
• TV Guide chats with Laurie Holden, who says that after Dale's death, "every move that Andrea makes from that point forward is about honoring Dale."
• IronE Singleton does a Q&A with TV.com and talks about the possibility of T-Dog becoming a walker: "T-Dog does not want to turn, T-Dog just wants to go out kind of heroically, I don't think T-Dog wants to be a zombie. Uh-uh."
• Michael Zegen (Randall) tells TVLine he got the full The Walking Dead experience: "I got to play a survivor, I got to kill a zombie, and then I got to turn into a zombie."
• The Los Angeles Times reports on AMC's zombie-themed Mad Men promo that will air during The Walking Dead's Season Finale, describing it as "a visual ode to the Dead."
• The Hollywood Reporter says ratings for Season 2, Episode 11, "Better Angels," rose from the week before, up about 200,000 to 6.9 million total viewers. TV by the Numbers reports that The Walking Dead was the top cable show that night, "dominating everything else."
• According to Ad Age, The Walking Dead was No. 2 on GetGlue's entertainment check-in service this week.
• Entertainment Weekly highlights Wye Oak's "Civilian," which played during Season 2, Episode 10, "18 Miles Out."
• The Stir thinks The Walking Dead's characters need some new hook-up options, "to spice the sexual chemistry up a little bit."
• Jethro Tull's Ian Anderson tells Pollstar that he often gets approached by people interested in his son-in-law, Andrew Lincoln: "I just pretend I'm his agent. Or his older lover."
• Entrepreneur asks Robert Kirkman what advice he has for entrepreneurs "attempting something unorthodox."
• For recaps, reviews and commentary for Season 2, Episode 12, "Better Angels," check out AfterElton.com, Assignment X, The Atlantic, The A.V. Club, The Baltimore Sun, Best Week Ever, Big Shiny Robot, Boomtron, the Boston Herald, BuddyTV, BuzzFocus.com, the California Literary Review, Celeb Dirty Laundry, TheCelebrityCafe.com, ChicagoNow, Cinema Blend, CNN, ComicBook.com, Comic Book Resources, Complex, Crave Online, Den of Geek, Digital Spy, Entertainment Weekly, E! Online, Examiner.com, The Express-Times, FEARnet, Grantland, the Hartford Courant, HitFix, Hollywood.com, HorrorMovies.ca, the Houston Chronicle, The Huffington Post (recap and review), IGN, The International Business Times, io9, the Los Angeles Times, MassLive.com, Metro, MTV, New York Magazine, The Oregonian, Poptimal, Rolling Stone, ScienceFiction.com, Screen Rant, Socialite Life, The Star-Ledger, Television Without Pity, Time, TV.com, TV Equals, TV Fanatic, TV Geek Army, Very Aware, The Wall Street Journal, The Washington Post,Yidio and Zap2it (recap and review).
Read More