Press
TV Guide Applauds Episode 11; Gale Anne Hurd Dishes on Season Finale to E!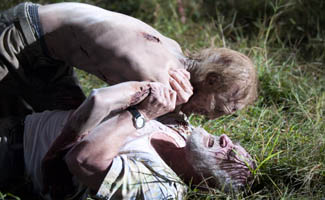 This week, TV Guide applauds the shocking final moment of last weekend's episode, "Judge, Jury, Executioner," and Gale Anne Hurd dishes on the rest of Season 2 to E! Online.
• TV Guide cheers The Walking Dead for "pulling off a jaw-dropping twist of fate" in Season 2, Episode 11, "Judge, Jury, Executioner."
• Gale Anne Hurd teases the rest of Season 2 to E! Online, sharing that Carl will play a big part in the last episode's "shocking cliffhanger." And, of this Sunday's The Walking Dead, E! Online says, "Epic does not begin to describe this season's penultimate episode."
• TV Guide's top moments include Rick and Shane's fight in Episode 10, "18 Miles Out," noting, "their knock-down-drag-out fight is a doozy."
• Variety praises The Walking Dead, observing, "One of the unexpected pleasures of the show in this second season has been the way it has tackled questions of morality."
• Robert Kirkman tells TV Guide to expect "big, crazy action and awesome zombie stuff" in the Season 2 Finale, and he shares with Entertainment Weekly that the finale will "see a few characters die, a few characters radically change, and see a huge transition for the whole show." (No Links.)
• After watching The Walking Dead last week, Entertainment Weekly asks, "What. Just. Happened?!?!" Similarly, E! Online was shocked by "the crazy twist TWD pulled on us" and Wetpaint asks viewers what they thought of The Walking Dead's plot twist.
•The death of Dale, "the group's moral compass," is the main topic of Robert Kirkman's discussion with The Hollywood Reporter about Episode 11. Kirkman also chats with Entertainment Weekly, MTV, AceShowbiz and IGN about the episode.
• TV Guide lists why it's bummed about Dale's death on The Walking Dead. Newsday eulogizes Jeffrey DeMunn, describing him as "an actor's actor and his absence will be felt intensely on the set of Walking Dead." Midwest Sports Fans ruminates on Dale's "great run, and now that he is gone, the mindset of the group will surely change."
• TV by the Numbers reports that The Walking Dead's most recent episode was the top cable series on Sunday, March 4, and for the week ending March 4.
• Robert Kirkman chats with Entertainment Weekly, MTV and The Hollywood Reporter about the casting of David Morrissey as The Governor, predicting, "David Morrissey is going to knock it out of the park."
• People reveals three things to know about Sarah Wayne Callies, including the fact that her daughter hates her wardrobe on The Walking Dead. (No Link.)
• Flaunt Magazine features an interview and several photos of Norman Reedus, who describes Daryl as "a virgin who was constantly put down and had to fight for everything, as someone with a huge chip on his shoulder."
• Norman Reedus teases the rest of Season 2 to The Huffington Post, promising "fireworks … from here on out, it's just all bloodshed and massacres and it's nuts." Reedus also did a live chat with fans during Season 2, Episode 11, "Judge, Jury, Executioner." Fashionably Geek has photos of Reedus posing with some fans.
• Jon Bernthal goes On Air with Ryan Seacrest and talks about how it's "either love Shane or hate Shane, and I think that unfortunately I think there's more going the side of hate Shane."
• Dread Central chats up IronE Singleton, who says the scene with the well walker was his most challenging this season.
• CherokeeTribune.com interviews hometown boy Chandler Riggs, who says he's attracted to movie roles in the scifi and action movie genres.
• The Daily Blam reports that Robert Kirkman has teased the introduction of Daryl Dixon to The Walking Dead comic.
• Broadcasting and Cable uses Talking Dead as an example of how networks are using new platforms to engage viewers.
• Sarah Wayne Callies posts another dispatch for the International Rescue Committee aid organization on her visit to refugee camps along the border of Thailand and Myanmar.
• MSN cites Andrew Lincoln as an example when asking why U.K. actors are venturing across the pond to get work.
• According to The Hollywood Reporter, Madison Lintz (Sophia) has been cast in an ABC pilot starring Judy Greer called American Judy.
• Deadline reports that Emma Bell (Amy) has joined the cast of Midnight Sun, an NBC pilot starring Julia Stiles.
• For recaps, reviews and commentary for Season 2, Episode 11, "Judge, Jury, Executioner," check out AfterElton.com, Assignment X, The Atlantic, The A.V. Club, The Baltimore Sun, Big Shiny Robot, Boomtron, the Boston Herald, BuddyTV, BuzzFocus.com, The Calgary Herald, the California Literary Review, TheCelebrityCafe.com, ChicagoNow, Cinema Blend, City Newspaper, CNN, Collider.com, Comicbook.com, Comic Book Resources, Complex, Crave Online, Den of Geek, Digital Spy, Entertainment Weekly, Examiner.com, The Express-Times, FEARnet, Gather, Grantland, TheHDRoom, HitFix, The Huffington Post (recap and review), IGN, Indiewire, KSiteTV, the Los Angeles Times, Mania, TheMarySue, MassLive.com, Metro, MTV, Nerd Bastards, New York Magazine, Poptimal, ScienceFiction.com, ScreenCrave.com, Screen Rant, SheKnows, Small Screen Scoop, Socialite Life, The Star-Ledger, Television Without Pity, Time, Tragicomical, TV.com, TV Equals, TV Fanatic, TV Geek Army, TVLine, Uinterview, Very Aware, Videogum, The Wall Street Journal, The Washington Post, What Culture, TheWrap, Yidio and Zap2it.
Read More