Press
Andrew Lincoln Visits Rachael Ray; ABC News Chats Up Norman Reedus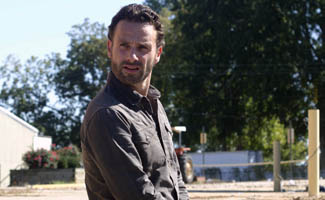 This week, Andrew Lincoln visits the Rachael Ray Show and ABC News chats up Norman Reedus about Season 2. Plus, Robert Kirkman dissects Episode 10 with The Hollywood Reporter, Entertainment Weekly and IGN.
• Andrew Lincoln appears on the Rachael Ray Show, dishing on life in Atlanta and how his daughter explains his job to her classmates: "'He shoots zombies.'" Lincoln also discusses Rick's evolution with TV Guide, noting, "I think he's moving much more toward Shane's sensibility."
• Norman Reedus chats with ABC News about his job, saying "I run around and shoot zombies in the brain. It's like I'm nine years old." Crave Online chats with Reedus too.
• The Hollywood Reporter, Entertainment Weekly and IGN chat up Robert Kirkman about Episode 10, "18 Miles Out." To THR Kirkman observes, "The fact that [Rick] can't leave someone behind and can't sacrifice Shane…is really what makes Rick leader material."
• Robert Kirkman is interviewed by G4's Attack of the Show, IGN, The Huffington Post, Comic Book Resources and Newsarama. Kirkman also does a two-part interview with Very Aware and WeLoveCult.com.
• TV Guide's top moments from last week's The Walking Dead include Lori's Lady Macbeth impression during "an intimate scene between Lori and hubby Rick, where she tells him how scared she is of loose-cannon Shane."
• Comic Book Resources covers a panel at last weekend's Image Expo that featured Robert Kirkman, Norman Reedus and Steven Yeun.
• A reader asks Parade about Jon Bernthal's professional baseball career in Russia.
• IronE Singleton talks to TheCelebrityCafe.com and advises using a quiet weapon to fight off zombies: "Keep a big hammer on you and a machete or something like that."
• TV by the Numbers reports that ratings for The Walking Dead Episode 10, "18 Miles Out," rose from the week before, beating everything on cable — even though it aired during the Oscars.
• Entertainment Weekly highlights the Run for Your Lives series of zombie obstacle-course 5Ks taking place around the nation this yea, which is "helping people prepare for the pending zombie apocalypse." (No Link.)
• The Sydney Morning Herald calls The Walking Dead "a brilliant adaptation of the comic books" and advises, "Don't miss it."
• Comicbook.com examines what the casting of David Morrissey as The Governor means for The Walking Dead TV show. News of the casting was highlighted by Deadline, Entertainment Weekly, the Los Angeles Times, The New York Times, TheWrap and TV Guide.
• The Calgary Herald interviews the head of McFarlane Toys about The Walking Dead action figures his company is making.
• For recaps and reviews of Season 2, Episode 10, "18 Miles Out," check out AfterElton.com, Assignment X, The A.V. Club, The Baltimore Sun, Best Week Ever, Boomtron, BuddyTV, the California Literary Review, TheCelebrityCafe.com, Cinema Blend, CNN, Collider.com, Comic Book Resources, Complex,Crave Online, Den of Geek, Digital Spy, Entertainment Weekly, Examiner.com, The Express-Times, FEARnet, Gather, Grantland, HitFix, Hollywood.com, The Huffington Post (recap and review), Indiewire, the Los Angeles Times, TheMarySue, MassLive.com, Metro, Nerd Bastards, New York Magazine, Poptimal, Rolling Stone, ScienceFiction.com, ScreenCrave, Screen Rant, Small Screen Scoop, Socialite Life, The Star-Ledger, Time, TV.com, TV Equals, TV Fanatic, TV Geek Army, Very Aware, The Wall Street Journal, TheWrap, Yidio and Zap2it.
Read More