Uncategorized
Q&A – Michael Zegen (Randall)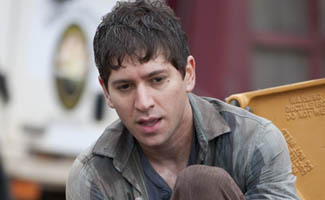 Michael Zegen, who plays Randall on AMC's The Walking Dead, describes playing characters that people like to beat up and explains rural Georgia's greatest life-threatening phenomenon (aside from walkers).
Q: Were you a fan of The Walking Dead before you got the role?
A: I watched the first season like a normal viewer. I remember thinking to myself that this is such an awesome show, there's no way I'm going to be on it. But then later when I got the audition I had to do a three-page monologue. I had one night to memorize it and I stayed up 'til 5AM. I got my friends to come early in the morning and put me on tape. Two days later I was off to Georgia.
Q: How do you describe your role on the show?
A: I try to tell my friends as little about the show as possible because most of them watch and I don't want to ruin it for them. My mother is always trying to get information out of me, but I don't want to spoil it. I tell my friends that I'm a prisoner and I leave it at that.
Q: On Rescue Me you played someone with a physical disability, and on The Walking Dead you have a serious injury as well. What's up with that?
A: I don't go out and choose these parts per se, just for some reason every time I get written into a show someone wants to do me harm!
Q: What was it like to interact with the walkers in person?
A: The makeup that Greg [Nicotero] and those guys do is unbelievable. There are guys walking around with their jaw hanging off their faces. It's just as scary in real life is it is on camera or on TV.
VIDEO: Inside Episode 211, "Judge, Jury, Executioner"
Q: And your character kills one of them!
A: You can't be on that show and not get to kill any zombies. Come on! When that script came out, I hadn't read it but I was asking around, "Does Randall kill any zombies?" And someone told me he did so I was very excited. Especially when I read it and it said I get a stab wound to the head.
Q: Speaking of stab wounds, tell me a little bit about the scene where you impale your leg on the fence.
A: That that scene took eight to ten hours and I was strapped to this fence for all of that time and it was cold and rainy. It was pretty incredible because once they called, "Action" it was almost real. I was screaming, Rick was firing guns, Glenn's on the other side firing a gun as the zombies are coming in — it was really intense.
Q: You live in New York City normally. How does rural Georgia compare?
A: People drive golf carts everywhere. All the paths are filled with golf carts, all the shopping center parking lots are filled with golf carts. There were multiple times where I almost died — turning around a split second before a golf cart came my way.
Click here to read an interview with Jon Bernthal, who plays Randall's murderer Shane Walsh.
Read More