Uncategorized
Enter The Walking Dead Watch to Win Sweepstakes for a Chance to Go to the Season 3 Premiere in L.A.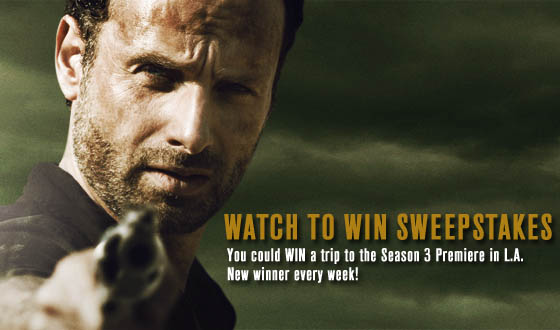 Want to go to the Season 3 Premiere in Los Angeles? AMC is giving you a chance with the Watch to Win Sweepstakes. All you have to do is tune in to The Walking Dead Midseason Premiere this Sun., Feb. 12 at 9/8c on AMC, and watch for three code words revealed during the commercial breaks. At the end of the episode, go to AMCDead.com and submit the winning phrase. Each week, one lucky winner and a guest are picked to go to next season's Los Angeles red carpet premiere where they'll meet the show's cast and crew. (Please note: The entry period closes at Mondays at 6AM ET.)
Didn't win the first week? No problem! A new winner is chosen every week throughout Season 2.

The Walking Dead returns with all-new episodes this Sun., Feb. 12 at 9/8c on AMC.
Read More