Awards
The Walking Dead Receives Golden Reel Award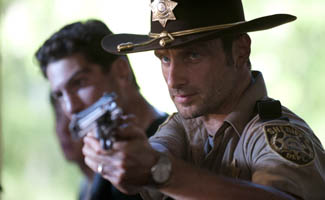 At Sunday night's 59th annual Motion Picture Sound Editors Golden Reel Awards, The Walking Dead was honored with an award for Best Sound Editing: Long Form Sound Effects and Foley in Television for the Season 2 Premiere, "What Lies Ahead" — the show's second Golden Reel after a win last year. In addition, Executive Producer, Gale Anne Hurd, was named the recipient of the 2012 MPSE Filmmaker Award.
The full team nominated in the category is as follows:
• Supervising Sound Editor: Jerry Ross
• Foley Artists: Gregg Barbanell, M.P.S.E., Pamela Kahn, M.P.S.E.
• Sound Editors: Tim Farrell, Phil Barrie, Jerry Edemann
• Assistant Sound Editor: Deron Street
• Foley Mixer: Stacey Michaels
• Zombie Wrangler: WK Stratton
• FX Re-recording Mixer: Gary D. Rogers
The Walking Dead faced HBO's Cinema Verite, Showtime's Homeland, Syfy's Red Faction Origins and Fox's Terra Nova to take home the prize.
For more information about the awards, visit the MPSE website.
Read More