The Walking Dead Season 2 Episode 9, "Triggerfinger" – Online Extras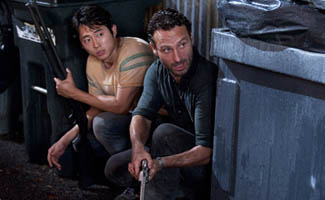 In The Walking Dead's ninth episode of Season 2, Rick, Glenn and Hershel find themselves in a fierce shootout while Lori learns just how dangerous life on the road can be. Learn more of what happens through the online extras for Episode 9, "Triggerfinger":
• Ten production stills of Episode 9, plus two sneak peek photos of next week's show
• An "Inside The Walking Dead" video that takes you behind the scenes of Episode 9
• The Walking Dead Story Sync for Episode 9 with polls, trivia, and exclusive video. (Next week: Check out Story Sync LIVE during the show!)
• The Episode 9 Ultimate Fan Game
• An open thread for this episode in the Talk Forum (Chat with fellow fans!)
• A sneak peek video from Episode 10, "18 Miles Out"
Also worth your attention:
• Talking Dead, The Walking Dead After Show with this week's guests Steven Yeun and Paget Brewster.
• The Watch to Win Sweepstakes: Enter tonight's three code words for a chance to win tickets to the Season 3 Premiere
• The Walking Dead: Dead Reckoning Adventure Game
• The Making of The Walking Dead's Walkers: A Multimedia Interview with Greg Nicotero
• The Walking Dead Which Survivor Are You? Personality Quiz
• The Walking Dead: Torn Apart Webisodes
• The Walking Dead Merch Page for books, DVDs, T-shirts, calendars, games…
• Dead Alert, the weekly newsletter for The Walking Dead
Read More