The Walking Dead Midseason Premiere, "Nebraska" – Online Extras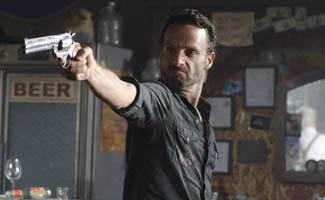 In The Walking Dead's Midseason Premiere, the group mourns for Sophia, Lori learns how dangerous life on the road is and Rick guns down two men to keep the farm safe. Learn more about what happens by checking out the online extras below for Episode 8, "Nebraska":
• Ten production stills of Episode 8, plus two sneak peek photos of next week's show
• An "Inside The Walking Dead" video that takes you behind the scenes of the Midseason Premiere
• A video recap of the Midseason Premiere
• The Walking Dead Story Sync for Episode 8 with polls, trivia, and exclusive video. (Next week: Check out Story Sync LIVE during the show!)
• The Episode 8 Ultimate Fan Game
• An open thread for this episode in the Talk Forum (Chat with fellow fans!)
• A sneak peek video from Episode 9, "Triggerfinger"
Also worth your attention:
• Talking Dead, The Walking Dead After Show with this week's guests Glen Mazzara and Dave Navarro.
• The Watch to Win Sweepstakes: Enter tonight's three code words for a chance to win tickets to the Season 3 Premiere
• The Walking Dead: Dead Reckoning Adventure Game
• The Making of The Walking Dead's Walkers: A Multimedia Interview with Greg Nicotero
• The Walking Dead Which Survivor Are You? Personality Quiz
• The Walking Dead: Torn Apart Webisodes
• The Walking Dead Merch Page for books, DVDs, T-shirts, calendars, games…
• Dead Alert, the weekly newsletter for The Walking Dead
Read More