The Walking Dead Season 2 Episode 10, "18 Miles Out" – Online Extras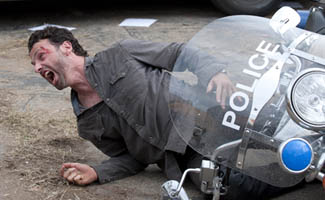 In The Walking Dead's tenth episode of Season 2, Rick and Shane come to blows while debating Randall's fate, and Andrea nudges Hershel's daughter Beth through a life-and-death debate. Learn more of what happens through the online extras for Episode 10, "18 Miles Out":
• Ten production stills of Episode 10, plus two sneak peek photos of next week's show
• An "Inside The Walking Dead" video that takes you behind the scenes of Episode 10
• A bonus "Inside The Walking Dead" video that details how Rick and Shane's fight in Episode 10 was choreographed.
• The Walking Dead Story Sync for Episode 10 with polls, trivia, and exclusive video. (Next week: Check out Story Sync LIVE during the show!)
• The Episode 10 Ultimate Fan Game
• An open thread for this episode in the Talk Forum (Chat with fellow fans!)
• A sneak peek video from Episode 11, "Judge, Jury, Executioner"
Also worth your attention:
• Talking Dead, The Walking Dead After Show with this week's guests Scott Wilson (Hershel), Michael Zegen (Randall) and Director Kevin Smith.
• The Watch to Win Sweepstakes: Enter tonight's three code words for a chance to win tickets to the Season 3 Premiere
• The Walking Dead: Dead Reckoning Adventure Game
• The Making of The Walking Dead's Walkers: A Multimedia Interview with Greg Nicotero
• The Walking Dead Which Survivor Are You? Personality Quiz
• The Walking Dead: Torn Apart Webisodes
• The Walking Dead Merch Page for books, DVDs, T-shirts, calendars, games…
• Dead Alert, the weekly newsletter for The Walking Dead
• Check out an all-new episode of AMC's series Comic Book Men next week at 10/9c, in which Ming convinces Walt to let him run a new zombie-themed sales promotion.
Read More