Press
Andrew Lincoln Visits David Letterman; The Walking Dead Hits THR's Power Rankings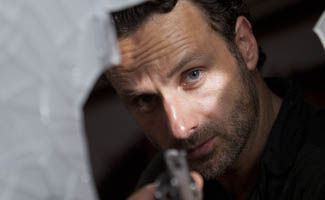 This week, the Late Show with David Letterman welcomes Andrew Lincoln while The Walking Dead makes a midseason debut at No. 5 on The Hollywood Reporter's power rankings.
• Andrew Lincoln appears on CBS's Late Show with David Letterman and talks about his real name (Andrew Clutterbuck) and his famous father-in-law, Jethro Tull's Ian Anderson.
• The Sydney Morning Herald interviews Andrew Lincoln, who describes The Walking Dead as "a story about everything being stripped away and starting over again." Good Day New York also chats up Lincoln, who reveals why he can't watch himself on screen.
• The Walking Dead appears at No. 5 on The Hollywood Reporter's weekly power rankings, with author Tim Goodman noting how much he "Loved the episode."
• TV Guide raves that The Walking Dead's "characters and story have a renewed momentum" since the midseason hiatus.
• Robert Kirkman talks to The Hollywood Reporter, Entertainment Weekly and IGN about Season 2, Episode 9, "Triggerfinger." To THR, he says, "A lot of people paint Shane to be this dastardly villain but he's one of the most nuanced characters on the show."
• TV Guide chats up Glen Mazzara, who teases that the next episode "really puts Shane and Rick at odds, and Rick is tired of secrets, and a lot will come spilling out."
• The Hollywood Reporter speaks with Steven Yeun, who says, "Glenn is definitely growing up and not just taking cues from others." Yeun also appears on Fox News and wonders why there aren't any "sexy zombies."
• CultureMob talks to Madison Lintz, who discusses how it was "SO, SO HARD" not to tell viewers about Sophia's undead fate.
• Entertainment Weekly reports that Season 2, Episode 9, "Triggerfinger," pulled in "huge" ratings, with 8.5 million viewers for the first airing and encore combined. TV by the Numbers adds that The Walking Dead "easily beat everything on cable, and also was the highest-rated program Sunday night on cable or broadcast."
• Warming Glow presents an image of Shane from The Walking Dead juxtaposed with a quote from The Wire's Omar Little: "The game's out there, and it's play or get played. That simple."
• Ad Age reports that The Walking Dead remains at No. 3 on GetGlue's list for the week of Feb. 13.
• Variety covers The Walking Dead's win at the Motion Picture Sound Editors Golden Reel Awards.
• For recaps, reviews and commentary for Season 2, Episode 9, "Triggerfinger," check out the Atlantic, the Baltimore Sun, Best Week Ever, Big Shiny Robot, BuddyTV, BuzzFocus, Complex, Crave Online, Den of Geek, Digital Spy, Entertainment Weekly (recap and review), FEARnet, Grantland, TheHDRoom, HitFix, HorrorMovies.ca, the Huffington Post, io9, the Los Angeles Times, MassLive.com, Metro, New York magazine, Paste magazine, Poptimal, Rolling Stone, Screen Rant, the New Jersey Star-Ledger, Starpulse, TheWrap, Time, TV.com, TV Fanatic, the Wall Street Journal, the Washington Post and Zap2it.
Read More