Press
David Letterman Parodies The Walking Dead; Andrew Lincoln Still Mum on Jenner's Secret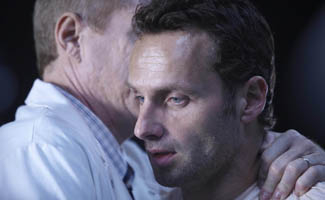 This week, David Letterman mentions The Walking Dead in his monologue while Andrew Lincoln chats with the AP about the secrecy surrounding Season 1's biggest cliffhanger. Read on for more.
• David Letterman spoofs The Walking Dead during a monologue this week, claiming there'd be love among the zombies on a special Valentine's Day episode of the series.
• Andrew Lincoln talks to Digital Spy about feeling like Yul Brynner in The Magnificent Seven "every morning that I go to work and put on my cowboy boots and sheriff's hat." Lincoln also chats with Associated Press, but won't reveal what Dr. Jenner whispered to Rick at the end of Season 1.
• Jon Bernthal talks about Shane's psyche with the Los Angeles Times, noting, "It's always more interesting any time you can have the audience questioning whether or not this guy is actually a bad guy." Bernthal tells CNN about acting on The Walking Dead: "Everybody is going 100%, all the time. There's no such thing as being in the background."
• Norman Reedus tells the Wall Street Journal, "I like that people are so into this. But it is a zombie show. We never know who could get bitten."
• Gale Anne Hurd speaks with TVLine and Complex magazine about what to expect from the rest of Season 2. Hurd also tweets about The Walking Dead-inspired wine flights from her Vertical Wine Bistro.
• The Hollywood Reporter chats with Robert Kirkman, who explains, "If the viewers get to a point where they sit down to watch The Walking Dead and they truly believe that anyone could go at any moment, we've done our jobs." Entertainment Weekly also sits down with Kirkman to dissect Episode 9, "Nebraska."
• Glen Mazzara and Robert Kirkman talk to MTV about Shane being the wild card among the survivors because "he wants to take control of the group."
• HitFix,TV Guide and Zap2it get the scoop from Robert Kirkman and Glen Mazzara on the rest of Season 2. Kirkman also sits down with Salon.
• Greg Nicotero characterizes The Walking Dead to Blastr as "a fantastically acted and directed and written drama that has characters who happen to be zombies."
• Assignment X interviews Melissa McBride, Norman Reedus and Steven Yeun.
• IronE Singleton describes being on The Walking Dead to 411mania.com: "The rest of us are flipping through that thing [each script] thinking, 'please don't let this be my day to die.'" Singleton also chats with TV Equals.
• The Washington Post cites Norman Reedus' Daryl Dixon in an examination of the Redneck Jedi archetype, calling Dixon an example "without peer." USA Weekend also highlights Reedus' "redneck-with-an-attitude Daryl Dixon" and mentions his upcoming movie, Sunlight Jr.
• The Orlando Sentinel thinks The Walking Dead is one of the best shows on TV, citing the drama's "harrowing brilliance." (No Link.)
• Bloody Disgusting says of The Walking Dead, "I think my favorite character on any show going right now, is SHANE."
• The Walking Dead's record-breaking ratings for the Midseason Premiere were noted by Broadcasting & Cable, Deadline, E! Online, Entertainment Weekly, the Huffington Post, Multichannel News, New York magazine, PerezHilton.com, Poptimal, The Hollywood Reporter, TheWrap, TV by the Numbers, TVLine and Variety.
• The Toronto Star believes The Walking Dead has "improved over the course of this second season, particularly the chilling twist that ended the first half back in November and picked up seconds later on the weekend."
• Ad Age reports that The Walking Dead was No. 3 on GetGlue's list for the week of Feb. 6, noting the drama "continues to be all but unstoppable."
• The Wall Street Journal cites AMC Talking Dead in its examination of the growing phenomenon of TV after-shows.
• In honor of Valentine's Day, the Boston Herald looks at some of primetime's most romantic couples, including Glenn and Maggie. Hyphen is enjoying "watching [Glenn and Maggie's] little romance unfold as much as I enjoy arms falling off of dead walkers and ear necklaces. And that's pretty high praise."
• New York magazine presents a The Walking Dead-themed Valentine's Day card featuring Rick Grimes
• The Chicago Tribune has a wish list of "ten things that should happen in the second half" of The Walking Dead's second season.
• Dread Central makes note of The Walking Dead's presence on Gaia Online, where you can create your own zombie avatar.
• The Walking Dead's Story Sync, a live, interactive two-screen experience, is highlighted by Comic Book Resources, Daily Dead, IMDb, MSNBC and Trend Hunter.
• In TV Guide, Kevin Smith credits Robert Kirkman for making Comic Book Men possible: "Not only is his show our lead-in, he's our spiritual godfather. His geekery allowed our geekery to hit the air."
• Laurie Holden will present at this weekend's ACE Eddie Awards, according to hollywoodnews.com.
• The Lincoln (Neb.) Journal Star interviews Nebraska native Emily Kinney, who says her character, Hershel's daughter Beth, has some "bigger episodes" in Season 2's second half.
• FEARnet checks out The Walking Dead merchandise at this week's American International Toy Fair, observing, "Major collectible creators and retailers are now getting on the brain-eater bandwagon." Dread Central checks out the new TV game based on The Walking Dead. Meanwhile, ShockTillYouDrop notes there will be some new The Walking Dead action figures available too.
• Socialite Life has a photo of Norman Reedus at one of the New York City Fashion Week shows.
• For recaps, reviews and commentary for Season 2, Episode 8, "Nebraska," check out the Atlantic, the Baltimore Sun, Best Week Ever, Big Shiny Robot, the Boston Herald, BuzzFocus, the Christian Science Monitor, Crave Online, the New York Daily News, E! Online, Examiner.com, TheHDRoom, HitFix, Hot Air, the Huffington Post, io9, the Los Angeles Times, MassLive.com, MTV, the Portland (Ore.) Mercury, Canada's Postmedia News, the New Jersey Star-Ledger, Time, TV Guide and TVOvermind.
Read More