Press
EW Highlights The Walking Dead's Return; Elle Calls the Show Binge-Worthy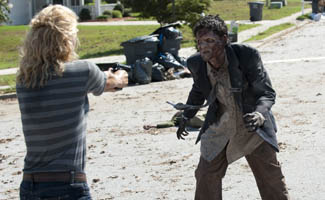 This week, Entertainment Weekly looks ahead the rest of Season 2 in its midseason preview and Elle compiles a list of shows, including The Walking Dead, that are worth a viewing marathon.
• Robert Kirkman and Glen Mazzara talk to MTV about The Walking Dead's diverse fan base: "One group is all about the zombie action…The other group is more interested in the interpersonal and emotional dramas."
• Entertainment Weekly includes The Walking Dead's Feb. 12 return in its midseason TV preview, quoting Robert Kirkman, "Things are going to move at a pretty quick pace." (No Link.)
• Elle's list of binge-worthy shows includes The Walking Dead, observing, "What if the rules of society don't apply anymore? How would you behave?" (No Link.)
• Shock Till You Drop asks what viewers can expect from the rest of The Walking Dead Season 2, including "What will the aftermath be like after the revelation of the mid-season finale?"
• Bloody Disgusting highlights a "pretty hilarious" mix of scenes from The Walking Dead mashed up with the opening theme song from '80's sitcom Growing Pains. TheWrap advises, "Enjoy — and just try not to sing along."
• The Hollywood Reporter covers the Hollywood Radio and Television Society's Hitmakers luncheon, which featured Glen Mazzara and other showrunners. Deadline reports that Mazzara joked at the event, "This is the first show I've done that people watch."
• Gold Derby covers The Walking Dead's nomination by the Cinema Audio Society in the Outstanding Achievement in Sound Mixing, Television Series category. The Hollywood Reporter and TheWrap note the nomination as well.
• Deadline covers The Walking Dead's three Golden Reel nominations, as does The Hollywood Reporter, the Los Angeles Times, The Wrap and Variety.
• The Washington Times reviews some of The Walking Dead action figures and finds two zombies (the Zombie Walker and the Zombie Biter) "impressive."
• MTV features two sneak peeks from The Walking Dead Season 2, Episode 8, "Nebraska," noting, "there's no doubt that fans of the series are eagerly awaiting the season's second-half."
• Photographs from The Walking Dead Season 2, Episode 8, "Nebraska" were featured at Bloody Disgusting, Collider.com, Shock Till You Drop and TheHDRoom.
• Greg Nicotero talks to MTV about working with Quentin Tarantino, including their latest project, Django Unchained.
Read More