Press
Kirkman Teases Season 2 With TV Guide; Midseason Finale One of Futon Critic's Favorites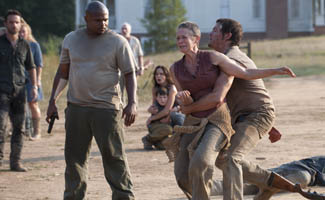 This week, TV Guide discusses the upcoming second half of Season 2 with Robert Kirkman, while the Season 2 Midseason Finale, "Pretty Much Dead Already," was one of last year's best, according to the Futon Critic.
• Robert Kirkman talks to TV Guide and teases a new threat for the survivors that "causes the group to encounter something very dangerous that will be an exciting element in the new half of the season."
• The Futon Critic's list of last year's best episodes includes The Walking Dead's Midseason Finale at No. 26, calling the final scene "as haunting of an image as any in 2011."
• At the show's Television Critics Association panel last week, Entertainment Weekly learned that Rick vs. Shane will be at "the heart of the show" moving forward. IGN, TV Fanatic and Bloody Disgusting reported from the panel too.
• The Pittsburgh Post-Gazette interviews IronE Singleton (T-Dog), who reveals, among other things, why he changed his name from Robert to IronE.
• CinemaBlend spotlights The Walking Dead Midseason Premiere poster, observing, "That's the face of a man who wants you to go ahead and make his day." The Coventry Telegraph says The Walking Dead poster features "a shot reminiscent of the cliffhanger ending that left us all wanting more." BuzzFocus says it "seems like forever and a day since the resounding midseason finale."
• The Hollywood Reporter, Bloody Disgusting and CinemaBlend cover the news of an expanded 16-episode Season 3. While discussing the news, HitFix notes The Walking Dead "continues to draw the biggest audience among adults 18-49 of any basic cable drama in TV history."
• TheWrap and ACESHOWBIZ report on Editor Hunter Via nabbing an ACE Eddie Award nomination in the category of Best Edited One-Hour Series for Commercial Television for Season 2 Episode 7, "Save the Last One."
• France's Sundance Channel translates an interview AMCtv.com conducted with Robert Kirkman, who explains his feelings going into Season 1: "C'est hallucinant, je dois dire, c'est d'ailleurs un mot que j'utilise beaucoup dernièrement." ("'Surreal,' I guess, is a word I've been saying a lot.")
Read More