Press
Kirkman Talks Season 2 with EW; Complex.com Eager for The Walking Dead's Return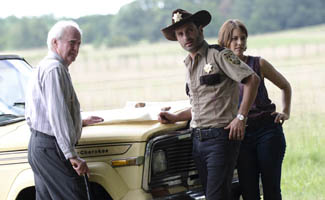 This week, Robert Kirkman teases the second half of Season 2 to Entertainment Weekly and the drama is picked by Complex.com as one of the most anticipated shows of 2012.
• Robert Kirkman promises to Entertainment Weekly that "we very much come back for the second half of the season following up on all of the questions that the viewers have about the barn situation."
• The Walking Dead is one of Complex.com's most anticipated shows this year because the second half of the season is supposed to be "a balls-out, all-Hell-breaking-loose storm of action, horror, tragedy, and mayhem."
• Examiner.com interviews Greg Nicotero, who says what he loves most about his work on The Walking Dead is "seeing people's reactions to stuff that we do."
• The Walking Dead ties with Breaking Bad for first place as 411mania's Best Drama of 2011: The show "rocks, and hopefully, it still rocks in the near and coming future. The world still needs good zombie stories." 411mania.com also gives Jon Bernthal a nomination for best male TV performance.
• The Visual Effects Socity nominates Greg Nicotero for his work on Breaking Bad's Season 4 finale, "Face Off." The category is Outstanding Supporting Visual Effects in a Broadcast Program.
• TheFW asks readers whether The Walking Dead or HBO's True Blood rules the airwaves. Cast your vote now!
• PopMatters interviews MAD Magazine's John Ficarra, who discusses a parody of The Walking Dead called "The Walking Debt" that features President Obama, John Boehner and others as zombies.
• Bear McCreary talks to Death and Taxes about his goal for The Walking Dead score, which is to "create a genuinely terrifying atmosphere in a unique way."
• Ad Age says The Walking Dead was No. 2 when it came to capturing social buzz last fall. (USA's WWE Raw was No. 1.)
• Business Insider reports that The Walking Dead was the second most-watched cable series last year, with 8.9 million viewers.
• The Walking Dead's "gruesome line" of action figures tops the Plain Dealer's Pop 10 list.
• The Huffington Post reveals that Michael Rooker (Merle) will guest-star in an episode of FX's Archer as a corrupt sheriff.
Read More