Press
Kirkman One of USA Today's Top People of 2011; Daryl Dixon Wins RedEye Tournament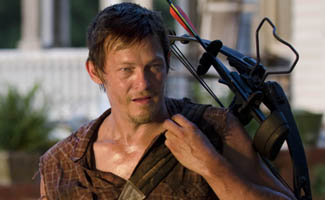 This week, Robert Kirkman is named one of USA Today's top people of the year and Norman Reedus's Daryl Dixon emerges victorious in RedEye's 2011 TV character tournament. The Walking Dead also appears on several best-of-the-year lists.
• USA Today's 100 people of 2011 puts Robert Kirkman at No. 20: "The Walking Dead stayed very much alive this year, with twists popping up in print and on TV."
• Daryl Dixon triumphs in RedEye's Best TV Character tournament, beating out Abed of NBC's Community: "There's just no stopping a man with a crossbow and zombie-ear necklace."
• The Globe and Mail's list of the year's standout TV includes The Walking Dead, posing the question, "Who knew a postapocalyptic zombie drama could be so smart?"
• The Tampa Bay Times' list of TV's best includes The Walking Dead: "Between seeing ex-lawman Shane kill a companion… and a long-lost survivor revealed to be among the walkers in the barn, I was riveted."
• The Walking Dead appears on LAist's top 10 drama list because the "action series on broadcast networks look completely cheeseball in comparison to The Walking Dead."
• The Walking Dead is one of Complex's 25 best shows of the year, explaining "The power struggle that's being set up between Rick and Shane… promises to pay off in major ways."
• One of the Orlando Sentinel's favorite things is The Walking Dead because it "put its survivors on a supposedly idyllic farm, but the thrills were still gasp-inducing."
• The New York Post thinks The Walking Dead was "wonderfully disgustingly vile on its return" in Season 2.
• The Boston Herald recommends The Walking Dead for your viewing schedule: "When little Sophia emerged from the barn as a zombie, devastated viewers sobbed."
• TVLine's ten most underrated TV performances includes Jon Bernthal as Shane, remarking, "As much as we regret it, we kinda understand where [Shane's] coming from. Genius."
• RedEye gives Daryl Dixon an award for Favorite Badass, noting, "Norman Reedus has given what could have been a cold, hard, one-dimensional zombie-killer heart."
• Norman Reedus is on AfterElton's list of the year's breakout actors, noting, "He brought skill and imagination to a thinly-conceived character and turned it into something very special."
• Robert Kirkman shares with FEARnet a list of his top five zombie movies.
• The Daily Beast considers Sophia's death one of the year's best, describing it as "tragic, heartbreaking, and utterly unforgettable."
• MSNBC was shocked by Sophia's death: "It's always hard to see a child die, but give WD credit, they stayed true to the nightmare of their setting."
• The death of Otis was one of Entertainment Weekly's best character deaths of 2011 because "His murder was a shocking, cynical moment in a season that mostly settled in for slow-paced sentimentality."
• UGO deems Andrea's battle with a zombie in the RV in Season 2 as "definitely one of the best fights of the year."
• The Hollywood Reporter highlights The Walking Dead New Year's Eve marathon, with Collider suggesting the marathon "act as a crowd-pleasing backdrop to your New Years Eve party."
Read More