Press
Nicotero Talks Zombie Makeup With EW; THR Names The Walking Dead One of Year's Best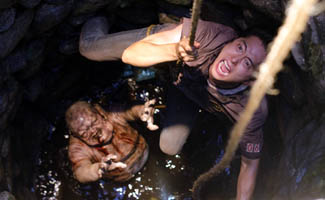 This week, Co-Executive Producer and Special FX Makeup Designer Greg Nicotero discusses how the well zombie came to be with Entertainment Weekly, while The Hollywood Reporter names The Walking Dead one of television's best of 2011 and Hershel Greene (Scott Wilson) is on Newsday's list of the 10 most fascinating people.
• Greg Nicotero talks Entertainment Weekly through the creation of the well walker in Season 2 Episode 4, "Cherokee Rose."
• The Hollywood Reporter includes The Walking Dead on its list of the year's best shows: "This series brought introspection to a genre that has over-relied on being a gorefest." (No Link.)
• Scott Wilson (Hershel Greene) appears on Newsday's list of the 10 most fascinating people because his character's belief that walkers deserve as much dignity as the living is "nutty — but fascinating."
• Entertainment Weekly's list of best TV props includes Daryl's crossbow: "As actor Norman Reedus, who plays Daryl Dixon, has said, 'You can't not look cool with a crossbow.'"
• Daryl Dixon is in the semifinals of RedEye's best TV character tournament. He's up against Rory Williams of BBC America's Doctor Who. You have until Friday, Dec. 23 to vote.
• The New York Times includes The Walking Dead on its list of 2011's favorite shows: "More than just about any other show on TV, AMC's zombie opera has the courage of its convictions."
• The Walking Dead merits an honorable mention on TV Guide's list of the year's best TV, describing it as "TV's best American horror story."
• NPR gives The Walking Dead an honorable mention on its list of the year's best scripted comedies and dramas.
• The Salt Lake Tribune's Top 10 list places The Walking Dead at No. 4, calling it "a drama about people under incredible stress — and the shattering emotional toll it takes."
• Extra considers The Walking Dead Season 2 Premiere one of the year's best TV moments.
• ScienceFiction.com gives The Walking Dead a midseason review, describing it as "a slow, steady build-up to the dramatic and powerful mid-season finale."
• CinemaBlend's list of the year's best TV moments includes Sophia exiting the barn: "It could be argued that the child's story…is representative of the future for the youth of mankind in this series." It also considers Shane killing Otis one of the year's most memorable deaths.
• Yidio elects The Walking Dead as one of the year's five best shows: "Season two has provided some truly gasp-worthy moments in addition to the character drama."
• The Huffington Post includes The Walking Dead on its Must Mention list of the year's best TV, saying it provided "some moments of real pleasure."
• Detroit's Metro Times says TV got scarier this year, citing The Walking Dead as one example: "Suddenly, prime time is not for the faint of heart."
• Multichannel News reflects on basic cable's stellar year, citing The Walking Dead's ability to draw "the biggest audience among 18-to-49-year-old viewers in cable-network history." (No Link.)
• TheWrap explores the issue of child endangerment on TV shows, including Carl getting shot and Sophia turning into a zombie and getting killed on The Walking Dead.
• Playbill reports that Jeffrey DeMunn is nominated for a Craig Noel Award, in the Outstanding Lead Performance in a Play, Male category for his role as Willy Loman in Death of a Salesman.
• The Daily Mail shares photos of Norman Reedus strolling along a Florida beach.
• The Arkansas Democrat Gazette reports that Ryan Murphy (the creator of Glee and American Horror Story) considers The Walking Dead "sort of intellectual horror. I was really impressed with it." (No Link.)
• The Charleston (W. Va.) Gazette imagines giving Daryl Dixon a motorcycle riding suit for Christmas: "Since Daryl is my favorite, I'd like him to stay alive as long as possible, and this will help his odds."
• Get your very own pair of Converse Chuck Taylor Allstars sneakers with a design inspired by The Walking Dead at Tauntr.com, either "The Walking Undead" or "Zombie Hunters" ("Crossbow not included").
Read More