Press
The Walking Dead Is Stephen King's Favorite; TV Guide Applauds Rick's Tough Choice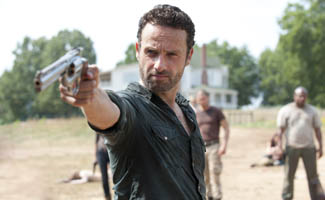 This week Stephen King includes The Walking Dead in a list of his 20 pop culture favorites, while TV Guide recognizes the difficult choice Rick had to make at the end of the Midseason Finale with regards to Sophia.
• The Walking Dead is one of Stephen King's pop culture favorites, he writes in Entertainment Weekly: "No romantic zombies (good), and a terrifying premiere episode set in a traffic jam outside of Atlanta (better)." (No Link.)
• TV Guide thinks Rick shooting Sophia was the week's "toughest choice" because he was "the only one willing to step forward and put her out of her misery."
• AdWeek points to The Walking Dead in proclaiming AMC the hottest cable network, explaining the series is "the apotheosis of AMC's antihero stance."
• Entertainment Weekly toasts "The Casts of AMC" in its annual Entertainers of the Year issue and comedian Patton Oswalt writes of The Walking Dead, "The first season was terrific… This second season is stellar." (No Link)
• The Baltimore Sun hands out midseason awards to The Walking Dead, including one for the "best dressed zombie."
• BuzzFocus poses 10 questions about The Walking Dead to ponder during the Midseason hiatus. Example: "Will we see the real Merle or Morgan make an appearance?"
• NPR asks of The Walking Dead's Midseason Finale, "What's next? I don't know, but I can't wait to find out."
• Norman Reedus teases the second half of Season 2 to Daemon's TV: "People are done talking. It's all kind of firecrackers from here on out."
• TheWrap chats with Jon Bernthal, who describes Shane as "a guy who is really trying to adapt to this new world order."
• UGO declares "there are plenty of reasons to love Shane!" and lists several of them, including the fact that he's a grade-A zombie killer.
• Norman Reedus is one of Daemon's TV must-see TV stars, noting he's "managed to transform this racist hillybilly character into someone loved and rooted for by the audience."
• The New York Post praises Shane's skills: "Sure, Shane lost out on stealing Rick's wife, but somehow he ended up inadvertently stealing the show."
• NPR points to The Walking Dead in its discussion on why shows split up their seasons: "A Sunday show like The Walking Dead doesn't want to go up again postseason football, TV's biggest attraction."
• IGN believes The Walking Dead's Otis (Pruitt Taylor Vince) is "The World's Most Accomplished Man."
• Comicbook.com considers The Walking Dead to be the best comic book TV show and praises the undead drama for its "great storytelling and strong character development."
• CNN suggests the purchase of The Walking Dead board game for the gamer in your life.
Read More