Press
Variety Applauds Midseason Finale; Kirkman Talks Upcoming Episodes With THR, EW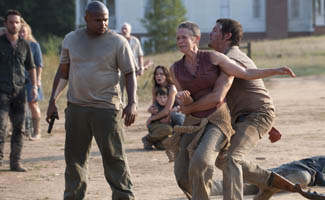 This week Variety calls the Midseason Finale "incredible" and Robert Kirkman chats with Entertainment Weekly and The Hollywood Reporter about what lies ahead for Rick and the others.
• Variety thinks The Walking Dead's Midseason Finale "may have been the most incredible hour of TV I watched all year. And that includes the stunning season finale of Breaking Bad." (No Link.)
• Robert Kirkman shares with The Hollywood Reporter that "our opening to our second half of the season is going to be pretty explosive." Looking ahead, Kirkman tells Entertainment Weekly, "These people are going to be pitted against each other now." To TV Guide, Kirkman comments that Shane is "very much going to be a catalyst of change and conflict."
• Entertainment Weekly names Norman Reedus one of TV's best scene stealers, noting that Daryl "swiftly became a fan favorite thanks to his enthusiastic slaying of walkers and no nonsense redneck ways." (No Link.)
• TV Guide cheers Scott Wilson, who has "brought subtle shades of humanity to the character of Hershel Greene."
• The Walking Dead is a TV Guide fan favorite runner-up, with Robert Kirkman promising "some of the show's goriest zombie slayings have yet to be seen." (No Link.)
• GQ believes The Walking Dead's "second season has improved on its first."
• Lori's admission to Rick that she's pregnant and had an affair with Shane in last week's The Walking Dead is dubbed the week's "best confession" by TV Guide.
• In a Dread Central interview, Greg Nicotero says it was so cold during the final days of shooting that "we even had fake bodies start to freeze while on set which was definitely a first for me." Nicotero tells FEARnet there will be more zombies in Season 2's second half, which is "mind-blowing." Nicotero shares with Starpulse that directing an upcoming episode was "one of the greatest experiences in my career."
• Sarah Wayne Callies chats with TV Guide about Lori's pregnancy: "One of the reasons that she considered terminating the pregnancy is because it has the ability to tear these men [Rick and Shane] apart."
• Scripps News talks to Jon Bernthal, who says, "I get fans coming up to me and saying they love Shane and they love the show." Catch Bernthal on Access Hollywood, discussing the show's success: "The fact that there's an audience doesn't only just mean that we get to keep doing what we do, but we love it because we believe in it so much."
• Norman Reedus tells the Associated Press that it's not a good sign if, as a regular cast member, you have to go to zombie school: "The joke is if you get that email from www.zombieschool.com that like, you're on your way out." Of Season 2's second half, Reedus reveals to TV Fanatic, "It's about to get even darker. For everybody."
• Screen Junkies lauds AMC's shows as better than all other TV combined, including The Walking Dead, which shows "what is possible on cable television when the creators really care about the product they create."
• Ratings for the Midseason Finale rose from the previous week's episode, garnering 6.6 million total viewers, and topped viewership for the Season 1 Finale — and came close to the record-breaking numbers for the Season 2 premiere, according to The Hollywood Reporter. Variety points out The Walking Dead "has emerged as basic cable's top-rated original drama series ever in adults 18-49." According to TV by the Numbers, The Walking Dead was the top-rated cable program on Sunday.
• The Boston Herald includes Laurie Holden, who plays Andrea, in its spotlight on TV heroines who are "responsible for some of the most riveting TV this season."
• The Contra Costa Times is thankful for "the flesh-eating zombies" of The Walking Dead.
• Variety discuss basic cable dramas, like The Walking Dead, competing well against the broadcast dramas in the key demographics of adults aged 18-49 and 18-34.
• Variety favorably compares The Walking Dead to FX's American Horror Story, saying the AMC drama "practices restraint in a setting that could easily give way to gratuitous gross-out sequences and insane sprees."
• The International Business Times includes The Walking Dead (and Breaking Bad) on its list of the year's top 10 TV shows.
• ComicBookMovie continues to wonder exactly what Dr. Jenner whispered to Rick in the Season 1 Finale.
• TV Guide believes The Walking Dead is ushering in "a new age of horror and thriller series — and the accompanying gore — on TV."
• New Jersey Newsroom writes about The Walking Dead's zombie school: "They work very hard to make sure the zombies are believable."
• The Hollywood Reporter has a sampling of what people using social media like Twitter and Facebook had to say about The Walking Dead Midseason Finale.
• LAist calls The Walking Dead Midseason Finale "a great episode, and it's such a pleasure to see Steven Yeun become such a central character this season." Inside Pulse says the "final scene was perfect."
• Buddy TV praises The Walking Dead Midseason Finale ending, saying it "delivered, partly because the writers made a truly unexpected decision." It also lists the best quotes from the episode.
• TVOvermind compares the events in Season 2, Episode 7, "Pretty Much Dead Already" to the graphic novel.
• THE WEEK lists five talking points for The Walking Dead Midseason Finale, including "1. The final moments were superb."
• ScreenCrave revisits what we've seen of The Walking Dead Season 2, remarking, "The climax… was a powerhouse, allowing several plot threads… to explode in a series of violent shocks."
• For recaps and reviews of Season 2, Episode 7, "Pretty Much Dead Already," check out AOL TV, Assignment X, the A.V. Club, Best Week Ever, the Boston Herald, BuzzFocus.com, the California Literary Review, TheCelebrityCafe.com, CliqueClack, Collider.com, Comicbook.com, Comic Book Resources, Complex magazine, Crave Online, Den of Geek, Digital Spy, Entertainment Weekly, Examiner.com, Grantland, HitFix, Hollywood.com, the Houston Chronicle, the Huffington Post, the Los Angeles Times, Mania, MassLive.com, MinnPost.com, New York magazine, Ology, Pajiba.com, Poptimal,
Rolling Stone, ScifiMafia.com, Screen Rant, Socialite Life, the Star-Ledger, Time, TV.com, TV Fanatic, TV Geek Army, TVLine, TVOvermind, the Wall Street Journal, the Washington Post and Zap2it.
Read More