Black Friday Shopping? Here's What to Get For The Walking Dead Fan in Your Life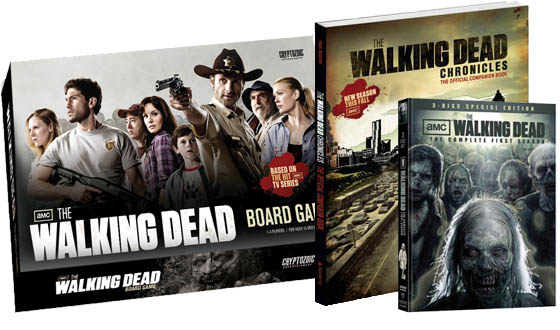 You've planned for it. You've imagined what you'd do when it comes. You've fortified yourself in preparation for it. No, it's not the zombie apocalypse. It's Black Friday! (Although, really, what's the difference?) This year, AMC is here to help with a range of The Walking Dead merchandise available for purchase for that special zombiephile on your list. So while you're out battling the ravenous crowds, keep your eyes peeled for the following official items from AMC's hit series.
The Walking Dead Chronicles: The Official Companion Book
The only authorized, behind-the-scenes guide to Season 1, The Walking Dead Chronicles focuses on the making of the Emmy-winning TV show as well as the creation of the New York Times bestselling comic book on which the series is based. The book is lav­ishly illustrated with never-before-seen unit photography, storyboards, set designs, makeup and visual effects shots, and page-to-screen comparisons of the comic and TV show. Featuring an interview with series creator Robert Kirkman, the book also includes sidebars that serve as a detailed episode guide, and excerpts from early drafts and final scripts.
Available at: Barnes & Noble, Hastings, Comic Retailers and online at the AMC Store.
The Walking Dead Board Game
In The Walking Dead Board game, only the strong survive. The weak turn into walkers, and then turn against their former friends! Fight your way through zombie-infested Atlanta, visit destinations like the department store, and the CDC. Take on the role of Rick, Andrea, or one of the other survivors then scrounge for a shotgun or a crossbow. Should you fall to the hungry horde of walkers, the game doesn't end. When a player dies and becomes a walker, they leave the world of the living behind and seek out the remaining survivors. If you can make it back to camp with enough gear to defend yourself, you win!
Available at: Barnes & Noble, Hastings, Comic Retailers and online at the AMC Store.
The Walking Dead Season 1 Special Edition DVD and Blu-Ray
This special edition DVD includes all six episodes with audio commentary, a black-and-white version of the Pilot episode, new behind-the-scenes featurettes like "Bring Out The Dead: KNB And The Art of Making Zombies," "Digital Decay: The VFX of The Walking Dead," and "No More Room in Hell: The Walking Dead Phenomenon."
Available at: Wal-Mart, Comic Retailers and online in Blu-Ray or DVD at the AMC Store.
Visit the AMC Store to pre-order even more The Walking Dead items in time for the holidays.
Read More