The Walking Dead Season 2 Episode 6, "Secrets" – Online Extras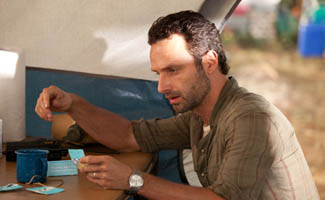 In The Walking Dead's sixth episode of Season 2, Lori reveals her infidelity, Glenn saves Maggie's life and Andrea discovers her inner warrior. Learn more about what happens by checking out the online extras below for Episode 6, "Secrets":
• Ten production stills of Episode 6, plus two sneak peek photos of next week's Midseason Finale

• An "Inside The Walking Dead" video that takes you behind the scenes of Episode 6
• A video recap that sums up Episode 6 in brief
• A trivia game to test your memory of Episode 6
• An open thread in the Talk Forum for this episode (Share your thoughts with fellow fans)
• Check out the Talking Dead After Show for Episode 6, and see a 15-minute bonus online segment.
• See what happens next with a sneak peek video from the Midseason Finale, "Pretty Much Dead Already"
Also worth your attention:
• The Walking Dead: Dead Reckoning web game teaser
• The Walking Dead Which Survivor Are You? personality quiz
• The Walking Dead: Torn Apart webisodes
• Spread the Dead Zombie and Survivor avatar generator
• Buy The Walking Dead books, DVDs, T-shirts, calendars, games and other merchandise at the AMC Store.
• Win a Stagger-on Role Sweepstakes presented by Bing
• Watch 5 Zombie B-Movies Online

Read More