Story Notes for The Walking Dead Season 2 Episode 3, "Save the Last One"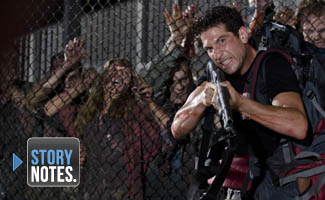 Every Friday at 10/9c AMC presents The Walking Dead Story Notes — real-time on-air trivia about the most recent episode of AMC's zombie series. Tonight's episode is Season 2 Episode 3, "Save the Last One."
Automotive Notes
Glenn and T-Dog are driving a 1979 Jeep Cherokee in this episode. It's Carol's car.
Awards Notes
Sarah Wayne Callies was nominated for a 2011 Saturn Award for her work on The Walking Dead.
Bio Notes
Lauren Cohan (Maggie) got her first film credit in a UK short called The Quiet Assassin (2005).
Pruitt Taylor Vince (Otis) played a Vietnam vet alongside Tim Robbins in Jacob's Ladder (1990).
Casting Notes
Scott Wilson (Hershel) also played a "doctor" in The Exorcist III (1990).
Character Notes
Maggie is one of Hershel Greene's daughters. She brought Lori to the farm on horseback.
Dale hasn't had a cigarette in 4 years. He quit when his wife was diagnosed with cancer.
Patricia is Otis' girlfriend and Hershel's neighbor.
"22" (around Shane's neck) is Shane's old football number. Jon Bernthal came up with that idea.
Health Notes
Seizures are often an involuntary contraction of a group of muscles and a loss of consciousness.
How-To Notes
The safest way to land from a drop like Shane does from the window is to bend the knees slightly, land and roll.
Plot Notes
Otis knows the school's layout because this is his hometown. He went to this high school.
Dale is anxious about Andrea. She and Amy were the first people he cared about since his wife died.
Otis wanted to redeem himself for accidentally shooting Carl.
At the end of the episode, Shane and Otis have enough bullets to kill 10 zombies… or 8 zombies and then themselves.
Quote Notes
Jon Bernthal (Shane): "There's something about this show that takes more out of you than any other job I've worked on before."
Norman Reedus (Daryl) says his character is "such a wild card. He could become a total crazy person or maybe just become a really nice guy."
Sarah Wayne Callies on her character, Lori: "She's… a very intuitive woman. She trusts her gut, and she isn't afraid to share her opinions about things!"
Creator Robert Kirkman: "You never know what's going to happen at any point. Anybody could die… anything can happen."
Steven Yeun says he was exactly like his character, Glenn, when he was 19 to 21. "I see Glenn in me, quite a bit, during those ages."
Jeffrey DeMunn (Dale) and Laurie Holden (Andrea) were both in The Mist and The Majestic together. DeMunn: "We trust each other, we know each other. That's always a good thing."
Executive Producer Gale Anne Hurd: "It really is that the 'walking dead' are the human survivors."
Jon Bernthal (Shane) says "As these people start to discover that all laws have been broken down they will ultimately become far more dangerous to each other than the zombies are."
Bernthal: "Shane's the first character to realize the lawlessness of this world."
Recap Notes
Shane went with Otis to get a respirator, tube, drapes, sutures, and extra surgical supplies.
Carol's daughter Sophia has been missing for about 36 hours.
Rick is weak from all the blood he's been giving to Carl. They're both type A-positive.
Jacqui was one of the survivors. She chose to stay at the CDC in Atlanta when it exploded last season.
Dr. Jenner from the CDC said it was better to die a quick, instantaneous death than survive in this world.
Set Notes
This actor who plays the legless walker in the gymnasium is a real-life double amputee.
The walker hanging in the tree was a stuntman hanging from a full-body harness and a cable woven into the rope. He wasn't allowed to hang for more than 5 minutes for fear of losing circulation to his legs.
Script Notes
The suicide poem that Daryl and Andrea find was inspired by messages found on walls in post-Katrina New Orleans.
Trivia Notes
Leonardo da Vinci thought up the respirator, originally a wet cloth to block toxic powders.
Most rashes caused by poison oak last 5-12 days. Severe cases can last for 30 days or more.
"Clap" is slang for gonorrhea, a sexually transmitted infection.
The deer Rick, Shane and Carl saw was a 17-point buck. The "points" are the number of spikes on its antlers.
About 30,000 people die of gun-related deaths each year.
In medicine, "stabilization" is actually a process to help prevent shock in patients.
Read More