Press
EW Names The Walking Dead Fall TV Winner; Kirkman Talks Midseason Finale With THR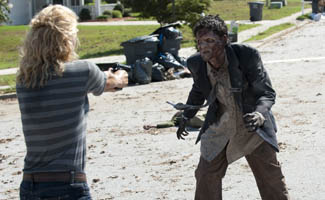 This week Entertainment Weekly points to The Walking Dead as a frontrunner in its roundup of Fall television while Robert Kirkman dishes on the last new episode of 2011.
• Entertainment Weekly includes The Walking Dead in its roundup of fall TV highlights: the "show ranks as cable's top-rated drama among young adults." (No Link.)
• Robert Kirkman previews the midseason finale in The Hollywood Reporter: "We've got Rick now aware of the affair, we've got a barn full of zombies living two feet away from our group, our group living on a farm where they've been told they're not welcome to stay there for any amount of time." He tells Entertainment Weekly, "Seeing Rick interact with Shane will have an extra level of tension."
• The Hollywood Reporter interviews Laurie Holden, who talks about how Andrea "becomes more of a sharpshooter and is really trying to make amends for not necessarily having it all together." She talks to TV Guide about Shane taking charge of Andrea's transformation: "Shane and Andrea are in many ways cut from the same cloth."
• Jon Bernthal shares Shane's emotional state with MTV: "Every relationship — Shane/Carl, Shane/Lori and Shane/Rick — it's tainted and fractured."
• Gale Anne Hurd tells FEARnet the most important thing for creating horror: "Hiring Greg Nicotero, who is now, for our show, the Emmy-winning Greg Nicotero."
• TVLine says, of The Walking Dead midseason finale, "The final five minutes were intense, horrifying and, ultimately, deeply poignant."
• The Walking Dead was the most-watched cable TV show last Sunday and the most-watched non-sports cable program for the week ending Nov. 20, TV by the Numbers reports.
• GQ includes Zombie Auteurism in its list of stuff the High-Bro (when bro-culture goes highbrow) likes: "The Walking Dead gave the shuffling undead some TV prestige…" (No Link.)
• Daemon's TV includes Norman Reedus as one of its must-see TV stars: "He has managed to transform this racist hillybilly character into someone loved and rooted for by the audience."
• New Zealand's Stuff counts The Walking Dead as one of the best sci-fi shows on right now, calling it "absolutely riveting."
• The Los Angeles Times includes The Walking Dead wind-up zombie in its list of geeky holiday gifts: "Relax, Rick Grimes. This walking corpse is only a toy."
• The Rochester Democrat and Chronicle suggests holiday gifts for the show's fans, like a Walking Dead shooting target poster, to get them "ready to take on the undead in no time." (No Link.)
• WorldScreen reports that Germany's RTL2 TV channel has picked up The Walking Dead.
• Comic Vine recaps Season 2, Episode 6, "Secrets," and also compares it with the plot of the graphic novel.
• For recaps and reviews of Season 2, Episode 6, "Secrets," check out AOL TV, Assignment X, The Atlantic, the A.V. Club, Best Week Ever, BuzzFocus.com, the California Literary Review, CliqueClack, Collider.com, Complex magazine, Crave Online, Daemon's TV, Den of Geek, Digital Spy, Entertainment Weekly, Grantland, HitFix, IGN, the Los Angeles Times, New York magazine, Rolling Stone, ScifiMafia.com, Socialite Life, the Star-Ledger, Starpulse, Time, TV.com, TV Fanatic and the Wall Street Journal.
Read More