Press
Kirkman Talks Shane With TV Guide; Jon Bernthal Chats With Jimmy Kimmel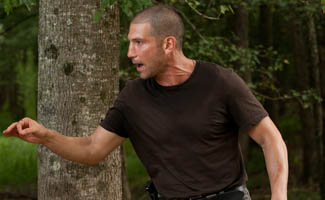 This week Robert Kirkman continues his interview circuit, chatting with TV Guide, Entertainment Weekly, Comic Book Resources and Zap2it, while Jon Bernthal is a guest on Jimmy Kimmel Live.
• Robert Kirkman talks to TV Guide about Shane "living on borrowed time, but the beauty of the show is that we can change things up."
• Entertainment Weekly discusses Season 2, Episode 5, "Chupacabra" with Robert Kirkman, who says of Michael Rooker (Merle), "I wouldn't be surprised to find out that Rooker has his own private island where he hunts human beings. All I'm saying is that Rooker might be the most interesting man in the world."
• Comic Book Resources speaks with Robert Kirkman, who says Season 2's main theme is "Rick questioning his leadership role and the characters around him questioning his leadership role." Kirkman also chats with Zap2it about what to expect after the mid-season hiatus: "There's definitely a slew of new characters that are going to be introduced after the hiatus."
• Jon Bernthal appears on Jimmy Kimmel Live, saying The Walking Dead is the "first show I've been on that my friends and family all watch. I was on a show before that they absolutely did not watch, they absolutely did not like."
• According to Deadline, Jon Bernthal has been cast in the movie Snitch, which will also feature Dwayne Johnson and Susan Sarandon.
• Norman Reedus is joining the cast of an independent film titled Sunlight Jr., which also stars Naomi Watts and Matt Dillon, Variety reports. (No Link.)
• Glenn getting some action is one of TV Guide's top moments from last week: "The world may be overrun with people who eat other people, but damn it, men and women still have needs."
• Gather thinks Shane's demise would "leave too many stories hanging in mid-air, the major one being Lori's pregnancy." Meanwhile, TV Overmind has spoilers from The Walking Dead comic book and surmises that "sparing Shane from his hand-drawn fate in the comics and injecting him in an alternative dramatic context would be a pleasing departure."
• The Orlando Sentinel reports that The Walking Dead was one of the 10 most-watched programs on Sunday night, with 96,300 viewers, and calls that "an amazing showing." The Walking Dead was the second-most popular cable show for the week ending Nov. 13, behind ESPN's Monday Night Football game and was the best-rated cable program on Sunday, Nov. 13, according to TV by the Numbers.
• Gale Anne Hurd teases to Shock Till You Drop that Season 2 is "ending in a bit of a spectacle, go big or go home" and confirms that shooting is underway for Season 2, Episode 13, under the direction of Ernest Dickerson. Hurd is more expansive with Hollywood.com: "I think that what this new world will be and how each character comes to terms with their place in it is what I'm most proud of. Because everyone responds a little bit differently."
• Sarah Wayne Callies discusses Lori's pregnancy with TV Guide: "A lot of people find out in ways that she wished they wouldn't." (No Link.)
• Greg Nicotero talks to the Canadian Press about directing a Season 2 episode: "They were like, 'You know the genre, you understand storytelling and you've seen every zombie movie ever made so it makes sense that we take advantage of the wealth of knowledge that's stored in that brain of yours.'" FEARnet also has comments from Nicotero from a Season 2 set visit.
• MTV sits down with Norman Reedus, who reveals his approach to Daryl: "I'm trying to play him like a wet cat in an alley. You try to take care of it, but it hisses at you and rips your hands up. But he wants you to take him home." Reedus also speaks with the Chicago Tribune.
• During an interview with The Scotsman, Jethro Tull's Ian Anderson mentions watching Andrew Lincoln, his son-in-law, in The Walking Dead: "I'm not a fan of zombie thrillers but I've just loaned Andrew some money to buy a country house so I was kind of checking on my investment."
• The Hollywood Reporter covers news that AMC will air a Season 2 marathon on Sunday, Nov. 27, starting at 2:30 PM and ending with the midseason finale. Zap2it recommends watching The Walking Dead to "find out why the show's sophomore season is totally living up to the hype."
• For recaps and reviews of Season 2, Episode 5, "Chupacabra," check out Accidental Sexiness, AOL TV, Assignment X, The Atlantic, the A.V. Club, Best Week Ever, BuzzFocus.com, the California Literary Review, CliqueClack, Collider.com, Complex magazine, Crave Online, Daemon's TV, Den of Geek, Digital Spy, Entertainment Weekly, Grantland, The HDRoom, HitFix, the Los Angeles Times, New York magazine, Poptimal, Rolling Stone, Salon,ScifiMafia.com, Socialite Life, the Star-Ledger, Starpulse, Time, TV.com, TV Fanatic, TV Geek Army, the Wall Street Journal and Zap2it.
Read More