Press
The Walking Dead Impresses Variety; Bernthal Tells People What Freaks Him Out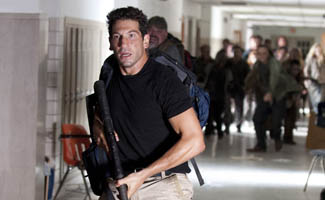 This week Variety applauds what it's seen of Season 2 so far, while Entertainment Weekly discusses the "shocking" twist in Episode 3 and Jon Bernthal tells People magazine what scares him.
• Variety talks up The Walking Dead, calling Season 2 Episode 3 "an absolute stunner" and lauding an upcoming scene in Episode 4 "that's simultaneously revolting and downright hysterical."
• Jon Bernthal gives People magazine a list of what freaks him out, including Sesame Street's Oscar the Grouch: "I grew up in a city, so dudes coming out of trash cans?" (No Link.)
• Entertainment Weekly discusses Shane's decision to sacrifice Otis, calling it "a thrillingly complicated way to end the episode." EW then talks the whole matter over with Robert Kirkman, who confirms, "Were [Otis] to come back, I believe he would be discolored and shambling." Kirkman also talks to MTV about Shane's impact: "Seeing how things are changed by his presence moving through the second season is a lot of fun for me."
• ABC News credits Zombie FX guru Greg Nicotero from The Walking Dead as the man who could be "responsible for this most recent zombie contagion."
• After watching Lori and Rick debate whether Carl is better off dead or alive in Episode 3, the Florida Times-Union was bowled over by Sarah Wayne Callies' performance and asks, "Is it possible to win an Emmy on a zombie show?"
• The Houston Chronicle quotes Robert Kirkman in its discussion of why zombies are popular in tumultuous times: "It's oddly comforting to be able to sit down at the end of the day and watch a television show where they can say, 'My life kinda sucks, but at least I'm not getting chased by zombies.'"
• The Washington Post cites The Walking Dead's Steven Yeun as an exception to the general dearth of Asian-American movie stars.
• The Walking Dead's zombie kills are on End Of Show's list of "the most horrifying, most gruesome, and most down-right scary moments we've seen on television over the last few years."
• Robert Kirkman visits the ladies of The View and notes that he and Whoopi Goldberg "seemed to hit it off the best on the air."
• Norman Reedus talks to The Hollywood Reporter about whether Merle will reappear: "If Merle comes back and he wants to hurt the group, Daryl will stick up for the group."
• Sarah Wayne Callies talks to Parade about Lori's role: "She is the one who starts saying it's not enough to not be dead, we have to be human." Callies tells Lucky magazine about the Halloween she dressed up as Julia Roberts in Pretty Woman.
• Accidental Sexiness catches up with Steven Yeun, who does not share what Jenner told Rick at the CDC: "I'm not going to answer that, just out of sheer will to keep my job."
• IronE Singleton describes T-Dog to CultureMob: "He's the everyman, anybody — he's similar to anybody that you would see at your neighborhood grocery store, bank, or local Starbucks."
• Very Aware talks to Jeffrey DeMunn, who characterizes Dale "as a protector, a caregiver, a watcher, and eventually people like that have to speak up."
• BuddyTV highlights its favorite quotes from The Walking Dead Season 2, Episode 3, including "It ain't the mountains of Tibet, it's Georgia." (Daryl talking to Andrea.)
• For recaps and reviews of Season 2, Episode 3, "Save the Last One," check out Accidental Sexiness, Assignment X, The Atlantic, the A.V. Club, Best Week Ever, BuzzFocus.com, the California Literary Review, CliqueClack, Complex magazine, Crave Online, Digital Spy, Entertainment Weekly, The HDRoom, HitFix, indieWIRE, the Los Angeles Times, New York magazine, Poptimal, Rolling Stone, Salon, Shadowlocked.com, Socialite Life, the Star-Ledger, Time, TV Geek Army, TV Overmind and the Wall Street Journal.
Read More