Press
The Cast and Crew of The Walking Dead Invade New York Comic Con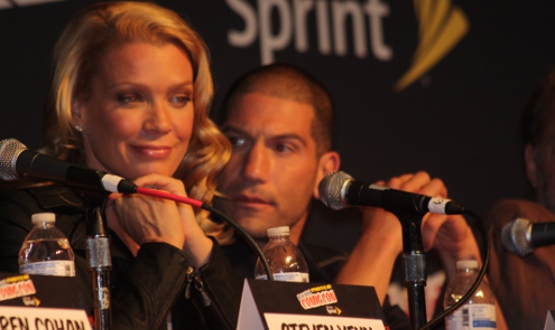 Just over 24 hours before The Walking Dead's return on Sunday, the cast and crew made their way to the halls of New York City's Javits Center to give a ballroom full of Comic Con fans a sneak peek of the upcoming season. Cast members Jon Bernthal (Shane Walsh), Steven Yeun (Glenn), Laurie Holden (Andrea), Chandler Riggs (Carl Grimes), Norman Reedus (Daryl Dixon) and new cast member Lauren Cohan (Maggie) were on hand to receive an uproarious response from those lucky enough to gain entrance. Also on stage: executive producer Gale Anne Hurd, co-executive producer and special effects make-up artist Greg Nicotero and executive producer and The Walking Dead comic creator and Robert Kirkman all moderated by Chris Hardwick, the comedian and host of The Walking Dead's new after-show Talking Dead.
Kirkman and Hurd kicked off the panel by discussing how excited they were to expand the world of The Walking Dead with a 13-episode second seaosn. Hurd applauded Nicotero's work on The Walking Dead webisodes and announced that the zombie make-up guru just directed an episode for the new season. Kirkman assured fans that Nicotero and his crew have created even more gruesome zombie effects this season. "All the crazy stuff you think you saw in the first season is going to be even better and more exciting this season," Kirkman said. He added that he was excited to explore storylines from the comic in a different way in the second season. The writer nodded to Shane, a character who dies early on in the comic book.
Fans were then treated to an exclusive scene from the new season, featuring the characters hiding out from a herd of hundres of zombies. The crowd gasped as Andrea dispatches a zombie with a screwdriver and a major character suffers a grisly injury. (Who? Watch The Walking Dead the sneak peek clip yourself to find out.)
When the time came for the cast to chime in, Bernthal said he is "consistently amazed" with what the show is allowed to get away with in terms of violence and gore. Both he and Nicotero assured the crowd that there are times when the make-up crew will be working on a grisly scene for fun, assuming that something so graphic will never make it in the show. Of course, it always does.
Holden chimed in that her character was "just getting started" in terms of romantic relationships. She is "thrilled" how in the new season Andrea has gone from being a "suicidal sad sack" to more of a strong leader like the male characters.
Chandler Riggs — who plays the young Carl Grimes — was a hit with fans, wearing sunglasses and discussing how he is "the coolest kid in school" for being on the show. He revealed that early on in the show, he would think about his dog who had died to achieve the intense emotions required by the scripts. Now, he can get to a place where he can cry on cue.
Reedus discussed his character, promising we would see a new side of Daryl, connecting more with his emotions than in Season 1. "He's the kind of guy who needs a hug, but he'd probably just try to stab you."
Before the panel closed, Hardwick opened up to fan questions, among them which weapon each cast member would prefer in a zombie apocalypse. Crossbows (like the one Daryl uses), bo staffs and razor-tipped boomerangs were mentioned as favorites, but Riggs trumped them all with his choice: "flamethrower with a bayonet on it."
The Walking Dead returns with a special 90-minute premiere tomorrow, Sun. Oct. 16 at 9/8c on AMC.
Read More