What You're Saying About the Return of The Walking Dead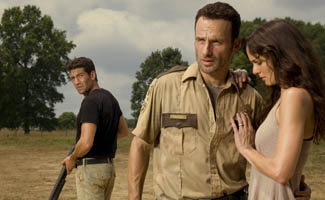 Just a few more days until The Walking Dead's special 90-minute premiere and commenters' excitement has reached a fever pitch. Here's what they have to say about the show's long-awaited return.
• "Season 2 premieres the day before my 20th birthday. AMC is awesome that way. :D" — iTexan91
• "This is the best show on TV. I'm on the edge of my seat. I feel like I'm inside the action and I'm scared to death." — Maureen Ogden
• "The best TV show on the air, great acting and writing. just all around great job, cant wait for season 2." — Ronon
• "I've never been hooked on a tv show before, but this one did it. All my friends thought I was crazy talking about this show about zombies." — Zvivor
• "Oooh yeah almost zombie time can't wait" — Joy Berry
• "Excited? Of course, I've had it marked in my cellphone calendar since it was announced!" — Ken Krulik
• "Who knew I would be soooo excited to see the end of the world." — Marilyn Ferguson
Log onto the Talk forum to join in any of these conversations or start a topic of your own.
Read More