Press
Variety Praises The Walking Dead; New York Times Notes Breaking Bad Connection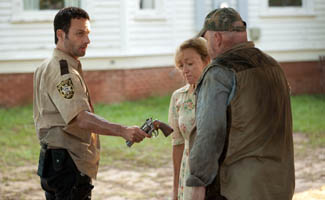 This week Variety explains just why The Walking Dead's ratings are so good while the New York Times takes delight in a Breaking Bad reference in Episode 2.
• Variety explains why The Walking Dead's ratings have been so good: "the show is really, really well done."
• The New York Times speculates that The Walking Dead referenced Breaking Bad with some meth that was "a certain shade of blue — the same color it takes on when it is cooked by Walter White."
• TV Guide's top moment last week was The Walking Dead's Season 2 premiere scene where Daryl and Rick slice open a walker, commenting that "the vivid scene also caused us to lose our breakfast."
• Entertainment Weekly reports the ratings for Season 2 Episode 2 fell slightly "but hell, at these levels TWD can still give viewers away like Halloween candy."
• Variety reports that The Walking Dead's ratings overseas for the Season 2 Premiere broke records in Spain and quintupled the first-season viewership average in Mexico.
• The Hollywood Reporter covers news that AMC has renewed The Walking Dead for a third season: "AMC's zombie drama The Walking Dead has a lot of life in it." The Washington Post says the renewal came as a surprise to "absolutely no one," and the New York Times laments, "AMC did not immediately say when production on new episodes of The Walking Dead would begin."
• Media Life cites The Walking Dead in writing that cable TV is challenging broadcast TV in the fall, at a time of year when the broadcast networks usually do best.
• The Season 2 premiere landed at the top of Multichannel News' Buzz Meter, as ranked by volume of activity across public profiles on Twitter, Facebook, GetGlue and Miso. (No Link.) Ad Age says The Walking Dead's "fan buzz… pretty much takes over Twitter with the airing of each new episode."
• Why are they "walkers" and not "zombies"? TheWrap quotes Robert Kirkman, who says, "They've never seen [zombies] in pop culture, this is a completely new thing for them."
• New York magazine presents its version of the game "Operation" based on The Walking Dead: "It takes a very steady hand to get the corpse of a woodland creature out of this zombie's gut!"
• Forbes writes how Jersey Shore helped MTV expand beyond its core viewers and now The Walking Dead "could have the same impact" on AMC.
• Robert Kirkman discusses Season 2, Episode 2 with Entertainment Weekly and shares that they're "absolutely dying" to work Michael Rooker (Merle) and Lennie James (Morgan) back into the show.
• Gale Anne Hurd talks to TV Overmind and predicts that Season 2 Episode 7 "will knock people's socks off."
• Andrew Lincoln tells the New York Post he doesn't know who's going to get eaten by a zombie first this season but helps the paper handicap the odds. Insider.com reveals "five things you don't know" about Lincoln.
• Zap2it asks Sarah Wayne Callies whether Rick finds out about what happened between Lori and Shane this season: "You can't keep a secret like this for too long." Callies also does an interview with Mother Nature Network.
• The Associated Press has a video interview with Jon Bernthal, where he discusses Shane's emotions: "There's so much loss in this world because of the apocalypse, but the people that Shane loves most are still very much alive." Bernthal also speaks to the Boston Herald and MTV.
• Jon Bernthal, Laurie Holden and Chandler Riggs sit down with Comic Book Resources for a video interview, during which Riggs talks about Carl's Season 2 transformation: "He puts himself in harm's way, he starts lying, he starts stealing and that's going to be a lot of fun for me."
• SFX speaks with Steven Yeun, who says there's no room for wusses in the cast: "Even if you are squeamish, you can't show up to work and be squeamish because then you'll just get razzed from that point on."
• Singapore's The New Paper talks to Steven Yeun about the difficulty of being Asian in Hollywood.
• Norman Reedus tells New York magazine that in Season 2 the viewers are "gonna feel very sad for Daryl." Reedus also speaks with Insider.com, while CULTUREMOB has video of his panel appearance at Seattle's ZomBCon.
• The Philadelphia Daily News interviews one of the newest cast members, Lauren Cohan, who talks about getting dialect coaching from Andrew Lincoln.
• Anthrax guitarist Scott Ian shares with Bloody Disgusting that playing a zombie on The Walking Dead was "a dream come true!"
• For recaps and reviews of Season 2, Episode 2, "Bloodletting," check out Assignment X, The Atlantic, the A.V. Club, Best Week Ever, CliqueClack, Crave Online, Entertainment Weekly, The HDRoom, HitFix, the Los Angeles Times, Poptimal, Rolling Stone, the Star-Ledger and Time.
Read More