Press
TVLine Praises Season Opener; Cast Teases Season 2 to LA Times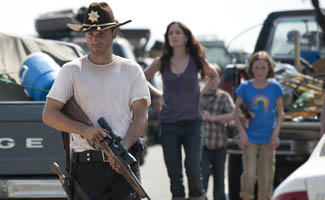 This week Robert Kirkman and Sarah Wayne Callies hit the interview circuit to discuss Season 2, while early reviews from TVLine and Us magazine sing the season premiere's praises.
• TVLine raves that the first two episodes of The Walking Dead Season 2 are "aces… You will not be disappointed."
• From Us magazine's review of The Walking Dead's premiere: "The zombies-among-us drama returns with a mesmerizing, hold-your-breath opener."
• The cast chats with the Los Angeles Times about The Walking Dead Season 2's plot, with Sarah Wayne Callies noting the audience will discover what Dr. Jenner whispered to Rick during the season but not in the premiere. Also speaking to The Walking Dead cast and crew is Starpulse, which remarks, "I have high hopes for the second season of this blockbuster show, and I doubt my hopes will be disappointed."
• Robert Kirkman talks to NBC Philadelphia about Season 2 being darker and more intense: "I think that it's going to be pretty rough! Our characters have a hard life ahead of them."
• Sarah Wayne Callies speaks to Good Day LA about The Walking Dead as "a family drama. To me, it's a story of a woman trying to protect her son and protect her husband and keep a secret." Callies also discusses the importance of the zombie performances with Access Hollywood: "If these background performers who are underpaid, uncredited, unappreciated, if they don't perform to a level of absolute technical excellence, then none of what we do really matters."
• Fangoria speaks with both Addy Miller, who played the little girl zombie, and Keisha Tillis, who played Morgan's undead wife. Tillis discusses the direction she received: "All I was given was instructions… just basically that the house I was in was familiar."
• The Auburn Reporter interviews local-boy-made-good Kevin Wasner, who's a special makeup and prosthetic artist on The Walking Dead.
• The Morton Report chats with John Esposito, who wrote The Walking Dead webisodes: "Think of the webisodes as an appetizer, with the main course being the second season. Bon appetit!"
• FEARnet presents a guide to The Walking Dead "designed to bring you up to speed and have you ready to go October 16th."
• Zap2it features a behind-the-scenes clip of The Walking Dead cast interviews. Shockya also highlights the clip, noting, "If you like season one, the start of two most certainly doesn't disappoint." The Atlantic says there are "clips of zombie-grabbing footage that prompted us to audibly yelp."
• Screen Rant watches a new Season 2 trailer for The Walking Dead and concludes, "It appears that the focus on characters and storytelling is intact as the show enters its sophomore year." Shockya says The Walking Dead trailer is "packing enough to get you pumped for Rick Grimes (Andrew Lincoln) and the gang's big return." /film features two promos, which "reveal that, this year, things get way more violent and way more upsetting. Sounds good to me."
• Tubefilter News calls Lennie James' Season 1 turn as Morgan "the best guest star appearance of recent memory."
• Big Picture Big Sound reviews The Walking Dead Season 1 Special Edition Blu-Ray and believes the "stepped-up extras are the obvious enticement to re-buy, a real treat for the many hardcore fans." The Blu-ray Blog endorses it too: "With all these new extras on board and a killer transfer of all the episodes, this release is a complete home run!"
• MediaPost asks if shows like The Walking Dead, which "stretch to their breaking points the limitations of traditionally accepted content on advertiser-supported programs," can continue to survive on TV.
• Dread Central highlights Zombie Pumpkins, which has a carving pattern for Bicycle Girl.
• The International Business Times credits The Walking Dead for zombies being the No. 1 costume this Halloween. TheStreet.com credits The Walking Dead as well, as does the Chicago Sun-Times. Technorati advises would-be walkers to "start dragging your leg and moaning like the undead to produce a top notch zombie costume."
• The New York Post gets in on The Walking Dead costume craze, with photos of zombie and Rick Grimes get-ups: "Thank The Walking Dead for turning zombies into this year's hot Halloween trend."
• Lost Remote highlights a report that uses The Walking Dead as a case study to prove that social data can help different brands plan their TV ad campaigns.
• Variety discusses News Corp.'s strategy of launching high-profile U.S. series — like The Walking Dead — overseas in the same timeframe as the show's domestic airing. (No Link)
• Publishers Weekly reports that Robert Kirkman will be at New York Comic Con later this month. Deadline, meanwhile, has Michael Rooker to appear at the "Aliens to Zombies" convention in Hollywood. And Orlando Attractions magazine says Norman Reedus can be found at the Spooky Empire Ultimate Horror Weekend in Orlando.
• Ryan Murphy, co-creator of Glee and the new series, American Horror Story, tells the New York Times that The Walking Dead is his favorite TV show: "The show really is a throwback to that '60s, '70s psychological horror, like Don't Look Now, Rosemary's Baby and The Shining."
• The Walking Dead is one of actress Aisha Tyler's favorite shows: "Are we good because we're by our nature good or are we good because we're forced by society to be good?" (No Link)
• AceShowbiz has a trailer for Another Happy Day starring Jeffrey DeMunn, which will hit U.S. theaters in a limited release Nov. 4.
Read More