The Walking Dead Chronicles – The Official Companion Book Now Available for Pre-Order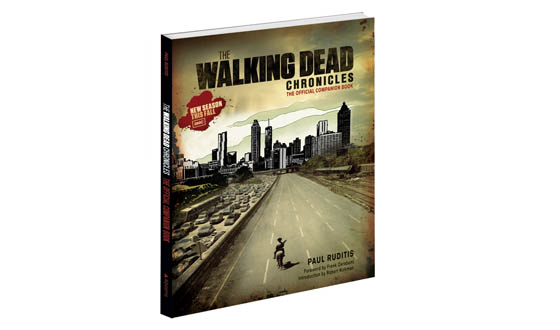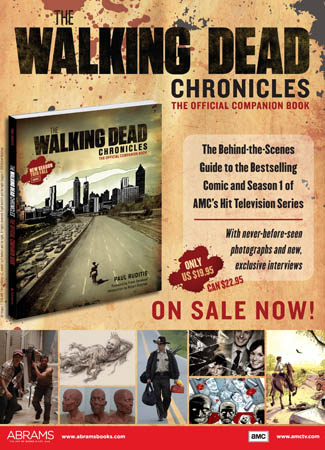 The Walking Dead Chronicles: The Official Companion Book (Abrams; Releases Oct. 4, 2011) is the only authorized, behind-the-scenes guide to season one of the white-hot AMC television series, The Walking Dead, which tells the story of a sheriff's deputy leading a band of survivors searching for a safe and secure home in a world ravaged by a zombie epidemic.(Click here to pre-order the book at the AMC Store.)
Focusing on the making of the first season of the Golden Globe-nominated TV show, as well as the creation of the New York Times bestselling comic book on which the series is based, The Walking Dead Chronicles is lavishly illustrated with never-before-seen unit photography, storyboards, set designs, makeup and visual effects shots, and page-to-screen comparisons of the comic and TV show.
Featuring new interviews with executive producers, the graphic novel creator Robert Kirkman, as well as the cast and crew, the book also includes sidebars that serve as a detailed episode guide, reproducing excerpts from early drafts and final scripts, and revealing new directions for the second season and beyond.
About the Author
Paul Ruditis has written or contributed to over a dozen official companion books to TV shows, including Bones, Prison Break, Buffy the Vampire Slayer, and The West Wing. He also writes novels for teens and adults and is currently writer and coeditor of a comic book series based on the TV show Charmed. He lives in Burbank, California.
About the Book
The Walking Dead Chronicles: The Official Companion Book
By Paul Ruditis, foreword by Frank Darabont, introduction by Robert Kirkman
Abrams / October 4, 2011
U.S. $19.95 / Can. $22.95
ISBN 978-1-4197-0119-1
Paperback
208 pages / 8¼" x 11″
200 color illustrations
Click here to pre-order The Walking Dead Chronicles: The Official Companion Book at the AMC Store
Read More