What You're Saying About the Season 2 Poster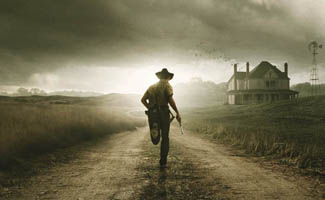 AMCtv.com's release last week of The Walking Dead Season 2 poster had commenters eagerly exchanging theories. Some were drawn to the farmhouse in the distance, while others wondered if Rick were running towards something, or away from it.
• "Farmhouse eh? Does this mean Maggie and her family? I hope so…" — Amanda Nicole Navarro
• "Sets the mood of tension, suspense and curiosity, without being too literal. Love it!" — Wiley Hough
• "Similar to the riding to Atlanta poster — Rick alone, back to the camera, heading into what he thinks is safety. I like it." — Tiffany Beal
• "It looks like its more about what (or who?) he's running to than running from." — Allan Edwards
Log onto the Talk forum to join in any of these conversations or start a topic of your own.
Read More