What You're Saying About The Walking Dead's First Emmy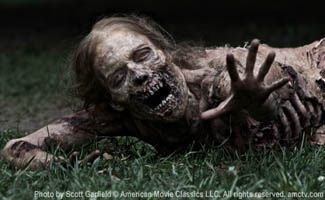 The Walking Dead's Creative Arts Emmy win for Outstanding Prosthetics this week had the Talk forum cheering Special FX Makeup Artist and Consulting Producer Greg Nicotero and his team from KNB EFX.
• "THEY DESERVE THAT & EARNED IT! Those SFX guys NEVER sleep!" — Tammy Stronach
• "It's a shame that them walkers had to put on all that makeup just so we could whip 'em with a baseball bat…" — Zombie Fighting Rednecks
• "Yes!!! Awesome it's about time that they reward good shows like this!!" — Nurys Smith
• "Should've won everything. Even categories it wasn't in. Haha" — Warren Bernard
• "Thar's what I love about CRAWLERS they can even win EMMYS!!!!!!!!!" — Douglas Barak
• "Nicotero had done the make up for Land of The Dead, not to mention a lot of other big budget films. When it comes to Zombie makeup, He is the best in the Biz !" — Gordon Westmorland
Log onto the Talk forum to join in any of these conversations or start a topic of your own.
Read More